On April 18, the 2012 CBEX Group Italy Real Estate Promotion Summit was held in China Beijing Equity Exchange (CBEX) associated with China Milan Equity Exchange (CMEX). Over 200 audiences of professional investment organizations and institutions as well as large scale enterprises attended this territorial real estate promotion summit and there were 16 significant projects cross Italy have been promoted during the summit, including Milano, Rome, Venice and Sardinia.

Since established, CBEX has being sticked to the strategy of "bringing in and going out" for an international development, aiming to assist the Chinese enterprises to enter the international market and attract foreign enterprises to China. In recent years, CBEX has had a fast development with sharply increasing concluded deals. In 2011, CBEX saw a turnover of over 450 billion yuan, while this year, it is expected to make a breakthrough of one trillion yuan. At the same time, the international layout has been promoted to be more strategic that more than 600 overseas financing projects have been listed on the website of CBEX. CBEX is serving as a green channel for the Chinese enterprises to attract foreign investment and for the foreign enterprises to make investment in China."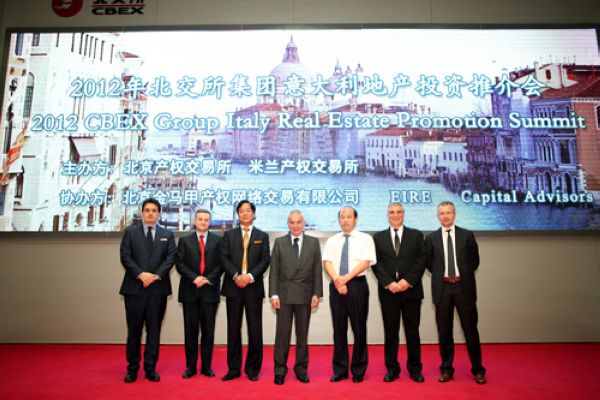 The Italian Ambassador,Mr. Attilio Massimo Iannucci said, "I am so glad to see that many Chinese investors have shown interests in the Italian real estate projects. As a traditional EU member, Italy is well complementary to China. Today, under the circumstance of globalization, the Italian and Chinese enterprises get together in Beijing to discuss about the future development proves that China is playing a more and more important role in the world economy. We welcome the Chinese enterprises to make investment in our country, will the most convenient and preferential visa approval services to them, and attach great importance to CBEX as a market-based platform."

CMEX President Marco Carone said, "As a major partner of CBEX in Europe, CMEX would like to first congratulate CBEX on its fast development in recent years. Meanwhile, we hope that the cooperation with CBEX can be deepened to provide better market platform services for the enterprises of the two countries so as to promote the economic development of the two countries."