Chinese outbound investment in real estate has jumped to more than US$8 billion last year from US$2 billion in 2012 and the buying spree has started to extend from gateway cities to secondary ones, says property consultancy CBRE.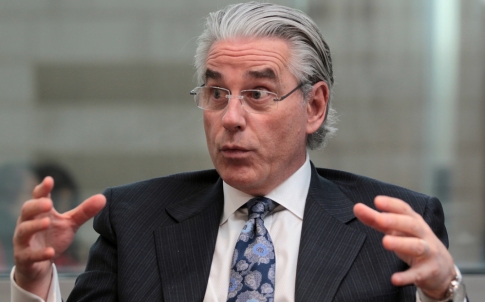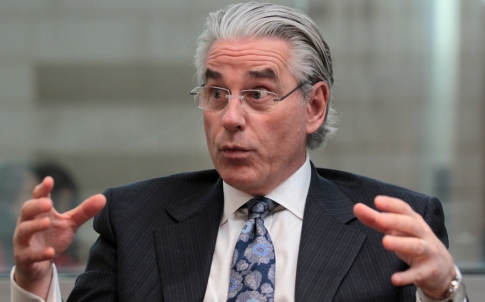 Christopher Ludeman, global president of capital markets at CBRE, said Chinese buyers used to take aim at large, long-lease and quality real estate in the best cities of the world.
But he said some property developers were now involved in major construction projects overseas, citing the US$1 billion investment by Greenland in a central Los Angeles mixed-use development.
Ludeman said that while Chinese overseas investment would continue, the buying pattern had been changing.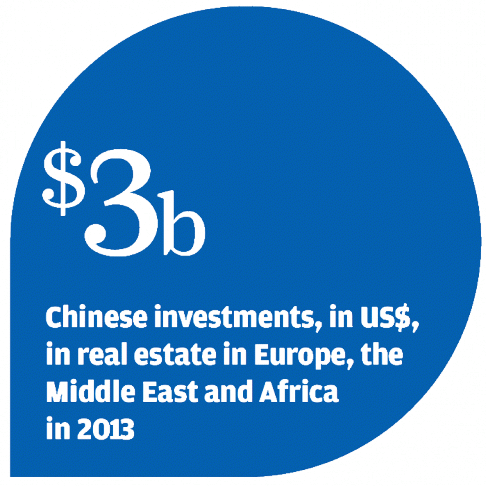 Chinese investors still focus on what they call gateway cities but they have started to try secondary cities such as Sydney in
Australia.
They might go to Frankfurt and Munich in Europe. Or they would go to Houston, San Francisco and Seattle in the
United States
, areas that just happen to have large populations of Asian-Americans.
Their investments last year involved commercial properties, including office, retail, industrial and hotel projects. Investment values were at or above US$10 million each, data from CBRE and Real Capital Analytics showed.
Among the investors, China Vanke, the largest Chinese developer, announced a co-development of two condominium towers in San Francisco with Tishman Speyer Properties.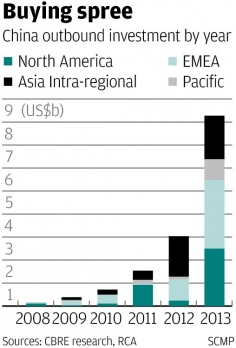 Other investors included sovereign wealth funds, real estate developers, state-backed Chinese institutions such as insurers and high net worth individuals rich businessmen who have done well.
Most of the Chinese capital went to North America, Europe, the Middle East and Africa, data from CBRE and RCA showed. Investments in North America surged to about US$2.5 billion from less than US$500 million in 2012. Those in Europe, the Middle East and Africa jumped to US$3 billion from US$1 billion.
Ludeman said Chinese investors would mainly invest in residential areas, but would also buy into hotel or retail properties. He said state-backed companies would prefer to focus on investments in gateway cities as they were considered safer assets and it was easier to get central government approval.
China has been stepping up outbound real estate investments as the economic environment in the US and Europe presented interesting opportunities since the global financial crisis in 2009.
Money flowing from China into overseas real estate shot up last year after the government eased regulations for insurers to buy properties overseas. Among the eye-catching deals last year was the £260 million (HK$3.4 billion) purchase of the Lloyd's Building in London by Ping An Insurance in July.
"Yields are being driven down in major gateway cities. Chinese investors are looking at other secondary cities … in the US. It's a good opportunity in yield appreciation," said Brian Stoffers, chief operating officer of capital markets at CBRE.

Reuters
Please
contact us
in case of Copyright Infringement of the photo sourced from the internet, we will remove it within 24 hours.