Chinese buyers are expected to purchase US$39.54 billion worth of
Australian residential property
over the next seven years, according to a report released today by Credit Suisse.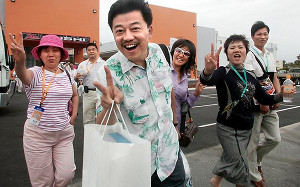 The may look harmless enough, but next thing you know they're investing $39 billion
The investment bank estimates that 12 per cent of all new housing purchases and up to 18 per cent in Sydney and 14 per cent in Melbourne are by Chinese buyers. Non-permanent residents are restricted to purchases of newly built properties in Australia.
According to the report, Chinese buyers comprise an estimated $5bn worth of property purchases in Australia per annum.
The findings align with data from Australia's Foreign Investment Review Board (FIRB) that shows Chinese investors were the largest source of foreign investment in Australian property in 2012-13.
The number of Chinese who are able to afford an apartment in Sydney is expected to rise by 30 per cent by 2020.
The report warns that the amount of foreign investor interest could distort the Australian property market with valuation methods like house price to local income ratios becoming obsolete.
"Residents of central London have known this for some time. Many of whom are well paid investment bankers but are still struggling to buy in the capital where many of the owners are wealthy individuals from the Middle East, North Africa and other parts of Europe," the report said.

ChineseRealEstateIntelligence
Please
contact us
in case of Copyright Infringement of the photo sourced from the internet, we will remove it within 24 hours.