London still world's top target for property investors
Brief:
The UK and London are still the leading targets for UHNWIs, while property markets in some cities hammered by the global crash are now prospering and prices are generally rising around the world, according to the 2014 Wealth Report, from Knight Frank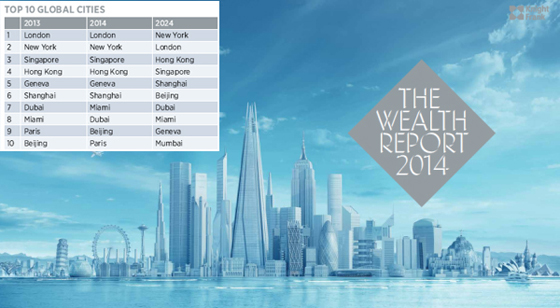 The UK and London are still the leading targets for UHNWIs, while property markets in some cities hammered by the global crash are now prospering and prices are generally rising around the world, according to the 2014 Wealth Report, from Knight Frank
The UK is still the world's leading destination for the most wealthy overseas property investors, according to the 2014 Wealth Report, by leading agent Knight Frank.
London retains its crown as the world's leading global city for the world's richest, followed by New York, and the two are set to remain there for at least a decade, according to the Knight Frank Global Cities Survey, which is part of the Wealth Report.
And at the same time, Ultra High Net Worth Individuals (UHNWI) appear to be getting richer, with the highest optimism about the future among those in Europe and the Middle East.
But the fastest growing luxury residential property market is dominated by Asia Pacific destinations. Jakarta, Indonesia, has the highest annual home prices, rising 38% year-on-year. New Zealand has performed well, taking second place with Auckland, where values are up 29% and Christchurch in fourth at 21%. Bali is in third place, with a 22% increase, according to Knight Frank's Prime International Residential Index.
In general, prices are rising, and some locations that suffered most in the global market crash are performing particularly well.
Liam Bailey, Head of Global Research at Knight Frank, says, "Continued global wealth creation, particularly in emerging markets, has been a key driver for prime property markets. This trend looks set to continue with a forecast increase of 28% in the total number of UHNWIs around the world by 2023.
"One of the most significant changes from a year ago is the general trend towards increasing prices. In 2013, values fell in 39% of the locations featured, compared with almost 50% in 2012. Last year there was double-digit growth in 20% of markets. In 2012 this level of price rise occurred in just 15%.
"Cities in Asia-Pacific have, by and large, performed particularly strongly, although government cooling measures have pulled back growth in Singapore and Hong Kong.
"Another trend is the strong rebound of some of the markets like, Dubai (+17%), Madrid (+5%) and Dublin (+17.5%), that were hit hard by the global financial crisis."
Shifts in wealth distribution contribute to changing fortunes in our Global Cities Survey, which measures the most important cities to the world's UHNWI community.
Three-quarters of the 600 or so private bankers or wealth advisors representing around 23,000 UHNWI clients across the world questioned for the survey say the net worth of their clients increased in 2013 and around two-thirds (65%) say their clients are positive about their wealth creation prospects in 2014.
The most bullish regions of the world regarding wealth creation this year are Europe and the Middle East – 70% of respondents say their clients were positive about their prospects, says the report, which is in its eighth year.
On average, 28% of the net worth of an Ultra High Net Worth Individual comes from the person's main property and the 2.4 second homes they each own, on average.
Just over a fifth of UHNWIs are considering buying another home in 2014, while 15% are thinking about permanently changing their domicile of country of residence. Quality of life was cited as the main reason for wanting to make a move and the UK is the country people are most likely to head to.
Almost a quarter of UHNWI investment portfolios is accounted for by property and it is growing in popularity. Just over 40% of survey respondents say their clients increased their allocation to property in 2013 and 47% expect it to increase further in 2014. Residential property was the most popular area to invest in (54%), followed by commercial premises (34%) and agricultural land and forestry (12%).
Investors are now showing more of an appetite for risk, says the report. The withdrawal of stimulus measures such as quantitative easing may be one catalyst, but so is rising economic confidence, especially in North America and Europe.
"Investment decisions are destined to take on an increasingly adventurous flavour; and recovering European property markets, which were firmly off the radar two years ago, are seen by many as a key opportunity for this year and next.
"This new-found desire for risk does not presage a wholesale flight from prime to secondary property. As we note in our analysis of UHNWI attitudes (pp8-15), the enduring appeal of luxury property ensures that it will remain a central part of the wealth portfolio."
While Asia's growing domination of our rankings and league tables continues, the Middle East, Africa and Latin America are increasingly taking the lead in terms of demand for overseas education, luxury spending and property investment.
The top six nations in the 2014 Global Cities Survey are the same as in 2013. The full top 10 list is: 1 London 2. New York 3 Singapore 4 Hong Kong 5 Geneva 6 Shanghai 7 Miami 8 Dubai 9 Beijing 10 Paris.
But Knight Frank also lists the five fastest growing city hotspots, which feature Middle East and Latin American destinations. They are: (1) Sao Paulo, (2) Istanbul, (3) Abu Dhabi, (4) Mumbai and (5) Sydney.
"Once again the results of our Global Cities Survey mean the mayors of London and New York can sleep easy. No Asian, Latin American or Middle Eastern ingénue has broken ranks to trouble the long-standing dominance of the two mighty metropolises at the top of our rankings," says the report.
"In fairness, it was never likely to happen this year; nor for that matter do we expect it to happen in the foreseeable future. History, location and their long-established wealth mean that London and New York's positions look unassailable, at least for now.
"It is further down our leader board that the real city wars are being waged. The main battleground is Asia, where a handful of locations are slugging it out in the hope of establishing a clear lead as the region's alpha urban hub.
"Of course, there will always be a keen rivalry between London and New York as to which takes the crown of leading global city. This year London is in first place according to our survey but, in reality, there is very little to separate the two cities."
There are more UHNWIs than ever, says the 2104 Wealth Report. "The number of UHNWIs across the world has ballooned by 59% since 2003, more than doubling in the Middle East, Latin America, Australasia and Africa.
"The number of centamillionaires – those with US$100m in net assets – has risen by 62%, while the tally of billionaires has climbed by 80% to 1,682, according to WealthInsight, a leading wealth intelligence firm, which has supplied data for the report.
"While UHNWI numbers in North America and Europe remain slightly below the levels seen back in 2007, these regions saw the strongest rates of growth last year. An additional 1,500 individuals boosted their net value beyond US$30m in North America during2013, a 3.5% rise.
"The number of UHNWIs in Europe increased by 3.3%, or almost 2,000 people, over the same period. Asia gained nearly 1,000 UHNWIs during the year, taking the region's total to 41,114, only slightly fewer than in North America.
This wealth creation and conservation came even as political, fiscal and economic headwinds buffeted some of the world's biggest economies and they took their toll on emerging countries.
"Emerging economies, which have been the engines of growth since the financial crisis, faced upheavals during the year, and this took a toll on total global growth, which dropped to the lowest level seen in four years."

OPP Connect
Please
contact us
in case of Copyright Infringement of the photo sourced from the internet, we will remove it within 24 hours.