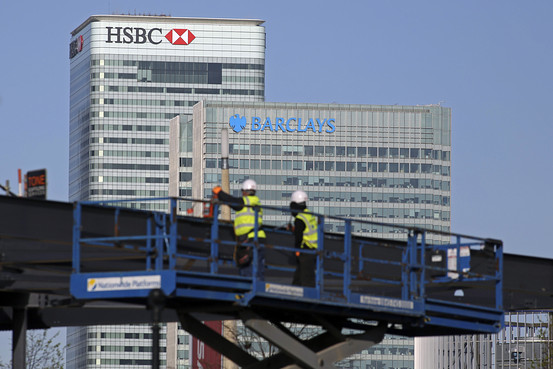 Builders work on a construction site near the headquarters of HSBC

Major Chinese property developers have been snapping up high-profile real estate deals around the world. Now, the country's wealthy private investors are looking to join them.

Their appetite is so great that real-estate firm JLL is pitching its biggest current listing — the London headquarters of HSBC, the city's largest and most expensive office building — to such clients. The asking price: £1.1 billion ($1.85 billion).

"We've had a good response from Chinese ultra-high-net-worth individuals," said Alastair Meadows, JLL's head of international capital group in Asia. "It's timely now to talk to Chinese private investors."

Looking to diversify out of their home countries and into assets other than stocks and bonds, Chinese investors are actively looking at real estate assets, primarily in gateway cities in the U.S., the U.K. and Australia, JLL says.

According to CBRE, Chinese investors poured $1.4 billion into international commercial real estate in the first three months of this year, a 54% increase from the same period a year earlier. That tally includes office, retail, industrial, hotel and mixed-use properties but not residential real estate or land purchases for future development.

CBRE said that 39% of that first-quarter investment was made by private individuals, greater than the 31% share made by institutional investors.

"We're just at the beginning of the investing cycle," said Marc Giuffrida, CBRE's executive director of global capital markets. "For private individuals, they're looking diversify. So much of their portfolio was in fixed income. But real estate is now looking more attractive than bonds."

To date, the flow of Chinese money for international property investment has been dominated by state-owned companies and property developers, such as Greenland Holding, seeking sites for future construction in cities like New York, San Francisco and Sydney. A handful of high-profile transactions by rich Chinese tycoons, including the 50% stake in New York's GM building by Zhang Xin, were exceptions. Until recently, rich Chinese were still researching markets and shy to sign off on deals, property brokers say.

But in recent months, private investors have joined the fray. The rich Chinese have a preference for office buildings and hotels, and sometimes band together to form investment consortiums, Mr. Giuffrida said. Private investors are searching for deals under $100 million, he added, with many seeking properties in secondary centers, such as Boston and Manchester, or in other European markets outside of the U.K. – most notably, Germany.

Jones Lang LaSalle forecasts that Chinese outbound investment in property is on track to reach more than $14 billion this year – growth of about 30% from the previous year. Already, Chinese investors of all types have poured $2.1 billion in outbound property investment in the first quarter, a 25% increase from the previous year.

Much of that money was invested by residential developers buying up sites for future construction. But Jones Lang LaSalle said the number of queries from private wealth is climbing.

"We're surprised by how much money people have, and the number of high-net-worth individuals," said David Green-Morgan, global capital markets research director at JLL.

chinarealtime
Please
contact us
in case of Copyright Infringement of the photo sourced from the internet, we will remove it within 24 hours.