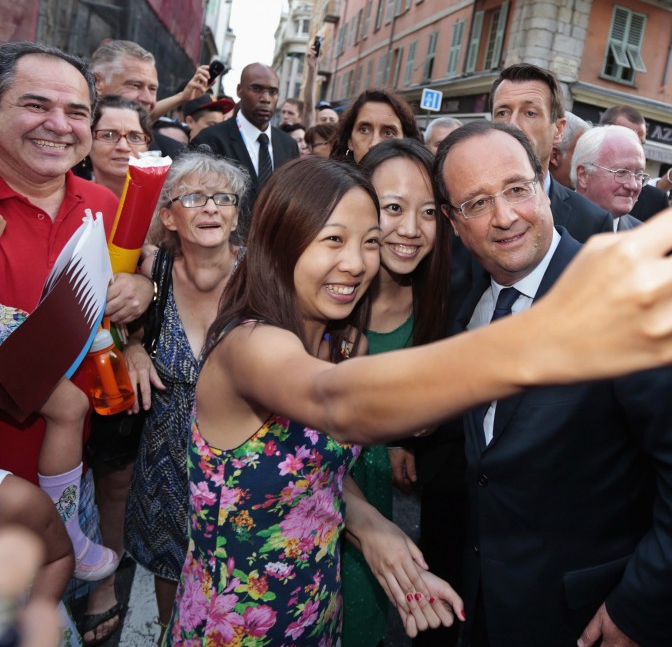 Chinese tourists snap a selfie with France's president in Paris. (Eric Gaillard/Reuters)
The Chinese are on the move. In 2014, a record number of Chinese,100 million, are expected to travel abroad, an army roughly as big as Mexico's population. They will visit family and friends, and real estate agents as well as tourist sites such as the Great Pyramids, Buckingham Palace, the Eiffel Tower and the Empire State Building — the educated and well-heeled beneficiaries of the biggest economic rocket ride in history. They have money in their wallets, an appetite for the good life and ants in their pants.
Still, you can't blame them for feeling unsettled at home. Beijing's aggressive anti-corruption sweep has netted thousands of big fish, and more confiscations are on the way. Pollution has created an asthma epidemic, food safety scares are commonplace, and China's economic pace ebbs. There is still no true dissent or freedom of expression allowed. So the country's wealthiest are on the move and want a better life for themselves or their children.
Some 9.3 million Chinese have immigrated in recent years, and 64 percent of the country's remaining rich households — a category that includes a few million people — want to leave or are in the process of doing so.
The
United States
is their preferred destination, and American real estate is becoming their new T-bills, a safe-haven asset. Like bullion, it's an asset class denominated in U.S. dollars, safe from confiscation and, when necessary, bought anonymously to hide wealth from governments or creditors or ex-partners. But unlike bullion, U.S. real estate can earn income, provide a roof and help obtain a visa.
A modern-day Chinese emigration wave is already underway, but a tsunami may soon hit America's shores. This month, U.S. real estate Web site Zillow begins publishing its entire U.S. real estate property database in Mandarin on the real estate Web site in China. This means Chinese buyers can surf the Net to find properties near family and friends in their price range. "The fact that Zillow is going there is huge," says Hall Willkie, president of New York real estate firm Brown Harris Stevens Residential Sales. "The Chinese may just overwhelm the United States with purchases."
A buyout is already underway. In 2013, Chinese buyers snapped up$11 billion worth of properties in the United States, capturing second place (at 12 percent of all foreign buying) behind Canadians for the first time, according to the National Association of Realtors' Profile of International Home Buying Activity. In the first quarter of 2014, Reuters reported that Chinese investors had even overtaken the first-place Russian expatriates in the purchase of Manhattan condos.
Willkie notes a spike in terms of interest in the past 18 months: "In New York, we've noticed Chinese buying very large, very expensive apartments, homes. But there are also many buying smaller apartments, $1.5 to $3 million, for their children going to school here. The parents are buying them."
In 2013, for instance, a Hong Kong woman paid $6.5 million for a two-bedroom in the tallest residence in New York, One57, for her daughter so she'll have somewhere to live when she gets into Columbia, Harvard or NYU, she told her agent. The daughter, currently, is 2 years old. Another Chinese woman bought four $20 million units there for family members.
The potential market is massive. In January, the Hurun Chinese Luxury Consumer Survey — a Web site that tracks the lifestyles and attitudes of its wealthiest citizens — said that some 64 percent of main land Chinese households with personal wealth of at least $1.6 million had emigrated, or planned to do so, with the United States being their favored destination.
Two million Chinese will be worth more than $1.6 million (not including their homes) by 2020, according to Credit Suisse's 2013 wealth report, and there are hundreds of thousands more in Hong Kong.
A total of 450,000 Chinese students are studying abroad this year — about half in the United States — and most will apply to remain permanently after graduation. To cater to this cohort, developers indicate that condos in Toronto and Vancouver have been marketed to parents in China who buy them sight-unseen because they adjacent to the University of Toronto, University of British Columbia and other schools catering to foreign students.
The frenzy has pushed up prices, and immigration flows, in Canada and
Australia
. Toronto is the North American leader in high-rise construction with 130 under construction (more than New York City), according building data group Emporis.
Enabling the migration has been Hong Kong's richest man, Li Ka Shing, who has built tens of thousands of condo units in Canada and recently began selling his assets in China for greener pastures in North America.
Even the Chinese government hopes to profit from the exodus. State-owned Greenland Group Co. in Shanghai recently became the owner of the largest remaining development site in downtown Los Angeles and the developer of a $400 million condo project in downtown Toronto. Soon it will back two major sites in Sydney; it plans to invest up to $3 billion in Australia. Another competitor, China Vanke, just announced a $620-million deal in San Francisco.
Generous investor immigration programs, student visas and family sponsorships have created large diasporas in cities that attract newcomers. By 2013, there were 3.79 million Chinese Americans in the United States (not including Chinese from Taiwan or other countries); nearly 30 percent arrived since 2000.
The desire to get money out of China for whatever reason, added to foray like Zillow's into China's living rooms, will only enhance enthusiasm. China's biggest exports to the United States may end up being capital and people. Look out for its biggest winners in a neighborhood near you.

The Washington Post
Please
contact us
in case of Copyright Infringement of the photo sourced from the internet, we will remove it within 24 hours.