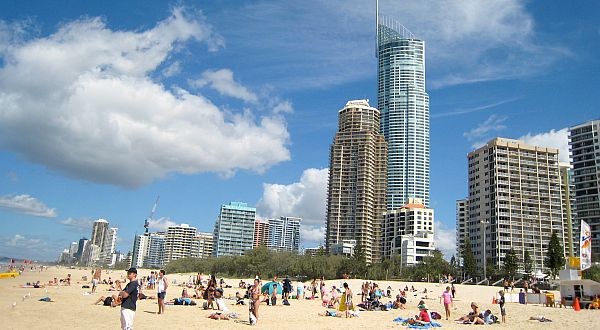 Australia's Gold Coast is set to attract more Chinese property investement
Chinese property chiefs attending a summit in Australia believe Gold Coast property and lifestyle is set to attract more investment from clients
A Chinese agents' summit in
Australia
could lead to big investment in real estate on the Gold Coast and beyond, it is believed.
The group of Chief Executive Officers or general managers of large Chinese real estate agencies visited the Gold Coast, Melbourne, Sydney and Brisbane on an agents' summit.
The dozen agency chiefs came from Beijing, Shandong, Fujian and Hebei provinces in China.
Dominique Corbett, of Brisbane-based agency Corbett & Co. who helped lead the summit, says, "There's a good chance that this trip could lead directly to offers and closed transactions on Gold Coast property. I am a Queenslander, and I'm proud to introduce the area to a new group of investors.
"The real wealth will begin entering the market this year. It started earlier this year when a Chinese buyer paid $8.7 million in the biggest private sale on the Coast earlier this year.
"The Gold Coast is an incredible buy, for the lifestyle, the education and everything they are looking for."
Ertian Zhao, owner of the biggest brokerage house in Hebei province, China, says Gold Coast property topped prime real estate the agents had seen in the
United States
, Japan and Korea.
"From my point of view I love the lifestyle, the beach, the clean air and the sea and that will be what I will be telling my clients about in China."
"I would think the Gold Coast would be number one on the list if you are buying property in a foreign country," he has told the Gold Coast Bulletin newspaper.
Chunhui Gao, owner of the biggest agency in Shandong coastal province, adds, "We had heard so much about the Gold Coast but now that we have seen it for ourselves I think our buyers will fall in love with it."
The tour also included educational and networking events hosted by LJ Hooker and RP Data, at Sydney and Ray White, in Brisbane.
Jack He, of Intime Overseas Consulting Management Co., says, "Having attended this Summit, I find it a very successful and brilliant idea for the whole industry to gather together and converge into a platform that allows the opportunity for intercommunication between one another."
Andrew Taylor says, "All of the Chinese agents on this tour are successful agents from large Chinese agency networks. If they can build relationships with agents and developers while they are here, that gives the Gold Coast a better chance of attracting additional Chinese investment dollars."
"Australia is the second favourite destination for Chinese real estate investment and the top destination for Chinese tourists.
"The Gold Coast has a good brand in China, and is gaining in momentum in comparison to Sydney and Melbourne.
"One of the big questions that Chinese agents have is about the types of property their Chinese clients are able to buy in Australia. Having a relationship with an Australian agent to whom they can forward buyers will help them help their clients."

OPPConnect
Please
contact us
in case of Copyright Infringement of the photo sourced from the internet, we will remove it within 24 hours.