-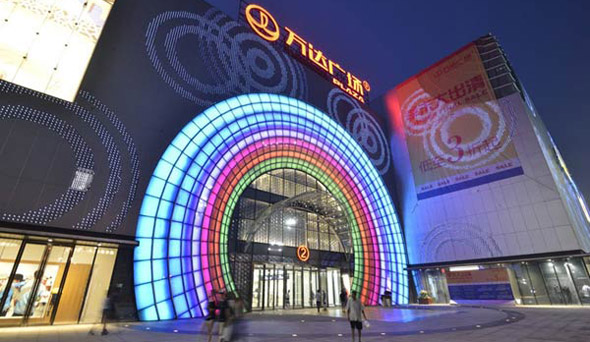 Night view of a Wanda Plaza of Dalian Wanda Commercial Properties Co Ltd in Shanghai, China, July 28, 2014. [Photo/IC]
The company of China's real estate tycoon, Wang Jianlin, will launch into Australia's property development market, creating a billion-dollar local arm to invest in new projects, including a long-awaited Gold Coast high-rise complex.
Wanda Commercial Properties, a Hong Kong-listed entity of the Dalian Wanda Group, announced on Tuesday it would form Wanda
Australia
to diversify its assets internationally.
It will launch with a strong foray in Australia's Queensland leisure market, through a 55 percent stake in the Gold Coast's Jewel development, a 147,000-square-meter mixed-use residential, hotels and shopping complex.
The remaining stake will be held by the Ridong Group's Li Riyu and Wu Fengliu. Each partner has granted unconditional put and call options.
Property experts say the deal could herald a new dawn of Chinese property investment in Australia.
Wang, chairman of the Wanda Group, took over the top spot on the Forbes China Rich List for the first time last year after a rebound in property prices.
In a statement to the Hong Kong Stock Exchange, Wanda Group said it would pay for The Jewel resort through internal resources and a mixture of debt and equity.
The Australian newspaper revealed that Wang visited Canberra recently to meet Queensland Premier, Campbell Newman, and federal Trade and Investment Minister, Andrew Robb.
Robb welcomed Wanda's decision which follows on from the explosive investment by Chinese real estate companies in residential property in Australia over the last 12 months.
Wang's Wanda has already been on a global buying spree, picking up London high rises as well as US movie chain AMC Entertainment. It now has its sights set on Australia.
"The board believes that given the unique location of the Jewel property and its unobstructed waterfront views along the Surfers Paradise of Gold Coast, the company is confident it can maximize the development value of the Jewel property and generate attractive returns on this investment," it said.
The group has also flagged it is considering other potential property development in Australia.

City of Beijing
Please
contact us
in case of Copyright Infringement of the photo sourced from the internet, we will remove it within 24 hours.