Chinese builder Landsea to invest $1 billion in U.S. housing market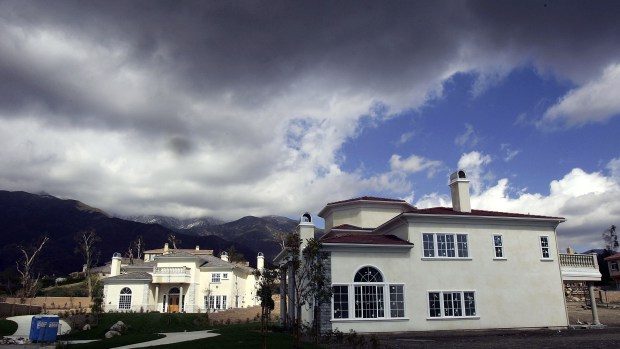 Chinese home builder is poised to invest $1 billion into the
U.S.
housing market, starting with two developments in California and one in New York.
The venture, by Nanjing company Landsea Group, could signal the beginning of a wave of Chinese investments in single-family homes in the U.S., part of a larger influx of Chinese money.
"From our research, Chinese customers in the U.S. don't want to live in a 100% Chinese community. We think we'll sell maybe 30% to Chinese buyers."- John Ho, managing director of the Landsea's U.S. subsidiary
Landsea — which builds about 12,000 houses a year in mainland China and also develops in Hong Kong and Germany — comes to the U.S. amid signs that the red-hot market at home is cooling off. Building costs in China have soared in recent years, and lately prices have started to fall in many cities.
"The Chinese housing market is slowing down. In the U.S., it's coming up," said John Ho, managing director of the company's U.S. subsidiary, at a celebration Thursday at the Millennium Biltmore Hotel in downtown Los Angeles.
"We saw an opportunity to diversify."
Landsea is starting with three projects: 187 units — mostly single-family homes — in Simi Valley; a town house development in Dublin, Calif., near San Francisco; and a condo building across the Hudson River from Manhattan in Weehawken, N.J. Its U.S. operations will be based in Pasadena, designing and developing homes but using local contractors and materials to build them.
The move represents one of the first entries by Chinese developers into the vast U.S. single-family home industry.
"This visit marks the advent of Landsea as an American home builder," said Chairman Tian Ming, who spent 12 days touring the company's three U.S. sites. "We have already established our presence in Asia and Europe, but there is no better housing market than the U.S."
Chinese investors have been pouring money into U.S. real estate in recent years, seeking bargain opportunities and a haven for their cash. A recent report by Rhodium Group, which tracks Chinese foreign investment, found $600 million in Chinese spending on U.S. real estate in the second quarter of 2014.
Most of that spending has been on commercial real estate, including several high-profile projects in downtown Los Angeles, such as Greenland USA's giant mixed-use Metropolis development next to L.A. Live.
Single-family subdivisions by Chinese companies have been rare. Along with Landsea, a subsidiary of Wuhan company Fuxing Huiyu Real Estate Co. has launched a few projects along the West Coast, including condos in Orange County.
Although some U.S. home builders have begun catering projects to wealthy Chinese buyers — who make up a growing customer base in parts of Southern California and the Bay Area — Landsea has no such plans. It aims to sell its homes primarily to domestic U.S. consumers, though it does expect that its brand name, well-known in China, may attract some customers with ties to its home country.
"From our research, Chinese customers in the U.S. don't want to live in a 100% Chinese community," Ho said. "We think we'll sell maybe 30% to Chinese buyers."
It's no surprise that Landsea chose Southern California to base its U.S. operations, said Bill Allen, president of the Los Angeles County Economic Development Corp. He likened Landsea to Toyota Motor Corp., Nestle and other global companies that have used L.A. as a base to gain a foothold in the U.S. market.
The number of Chinese-owned companies with a presence in L.A. County has more than doubled in the last five years to 254, Allen said.
"L.A. is the epicenter of the U.S.-China business relationship," he said.
That will probably continue, Allen said, as more Chinese investors look abroad for opportunities to invest in real estate. It took Landsea about a year to find its site in Simi Valley and break ground. There are other builders out there following, he said, scouting the region for places to build.
"So far it has been more multifamily and commercial developers, but most of the largest real estate developers in China are actively looking at visiting this market, looking for opportunities right now in L.A," Allen said.
Even as it starts work on its first round of projects, Landsea is also looking for more sites. Ho said his company plans to enter the Boston and Washington markets, and to launch more projects in Southern California, the Bay Area and New York.
"We believe in the U.S. housing market," he said. "We'll continue to expand."

Los Angeles Times
Please
contact us
in case of Copyright Infringement of the photo sourced from the internet, we will remove it within 24 hours.