Chinese investment in overseas commercial property is 'booming', growing 200-fold in the last six years, says top agent, Cushman & Wakefield.

Chinese outbound investment in commercial property reached US$33.7billion from June 2008-June 2014, growing more than 200-fold, says the investment white paper, China's Outbound Boom: The Rise of Chinese Investment in Global Real Estate.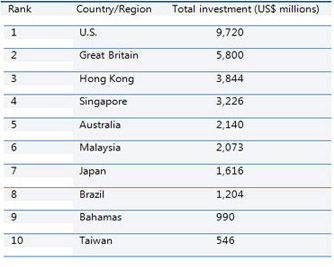 Top 10 countries/regions for mainland Chinese investment 2008-2014.6
The
United States
is the top destination for investment from mainland China, followed by the UK, the first choice for Chinese real estate investors in Europe, with London alone taking 62.7% of the European total, and Hong Kong.
Ted Li, National Director of Capital Markets, China, Cushman & Wakefield, says, "Chinese investors prefer developed and mature markets in Asia, North America and Europe. The U.S. is the top destination, following by
Britain
, Hong Kong,
Singapore
,
Australia
, Malaysia, Japan and
Brazil
.
"Southeast Asia is a favourite location as well, due to its proximity to China and the strong presence of ethnic Chinese communities.
"In Singapore, Chinese investors prefer to invest in offices, whereas in Malaysia, land development is the preferred vehicle. Many Chinese developers view the Iskandar Malaysia development zone as having huge potential for growth given its close proximity to Singapore."
Domestic restrictions and cooling market conditions in the Chinese real estate sector are pushing many investors to diversify to developed countries where signs of economic recovery and the prospect of asset appreciation promise more attractive returns.

OPP-Connect
Please
contact us
in case of Copyright Infringement of the photo sourced from the internet, we will remove it within 24 hours.