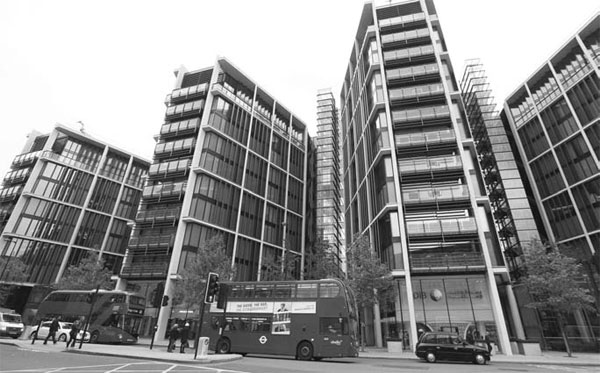 The development of One Hyde Park is seen in London in May. Data show that Chinese buyers bought some 1,900 new homes in London in 2013, about 6 percent of the city of new offerings in the year.
In London, New York, Paris, Los Angeles, Tokyo or Lisbon, Portugal, Chinese-speaking agents are among the most sought-after talents in the realty market.

"Although the saying that the Chinese are buying the entire [city of] London is not true, Chinese private buyers are changing the form of what has been building," said Yolande Barnes, director with Savills World Research.

About 10 percent of home buyers in London in 2014 come from China, compared with 2 percent in 2011, according to the latest data form JLL, a property services provider.

JLL's data said that Chinese buyers bought some 1,900 new homes in London in 2013, about 6 percent of the city's new offerings in the year.

Individual investors from China in the global realty market have been playing increasingly significant roles in shaping the development of cities.

The world of real estate money has changed, and more money from private buyers and Asians are flowing into the global realty market.

According to data from Real Capital Analytics, from February 2013 to February 2014, investors from China have spent some $67.7 billion on overseas properties, about 45 percent of the combined total of the top five buyer countries and regions in the world: China, United States, Germany, Singapore, and the Middle East.

Large amounts of wealth have flown into global cities, including London, Paris, New York, Sydney and Shanghai.

During the past year, more than 4 billion euros flowed to London from outside the United Kingdom and some 3 billion euro to Paris from outside France. New York's properties attracted combined investment of some 14 billion euro, among which 20 percent were from overseas investors.

Investors from Asia, especially China, has been shaping the new housing products and development projects in London, said Barnes.

"Chinese buyers tend to buy new apartment towers in premier locations, while European and British buyers prefer second-hand, renovated houses which are not necessarily within the very central locations," Barnes said.

Developers have been watching the trends of Chinese buyers in London and in response they are offering more apartment towers at premier locations.
In January 2014, Chinese State-owned developer Greenland Holding Group announced a 1.2 billion- pound ($1.9 million) investment in two overseas development projects in London. The developer signed a contract with Minerva to purchase the Ram Brewery development site. It will also develop a high-end residential project at Canary Wharf.

Dalian Wanda Group is also developing One Nine Elms, a proposed mixed-used development comprising 1.13 million square feet of prime residential, commercial and retail space in central London.

"Chinese buyers prefer residential projects," said Christopher Murray, founder and managing Director of W1 Developments, a London-based property services provider. "London as a global city has attracted many international students, among which a large number come from China. Their parents may buy properties as housing to the students, and they can also gain yields from rental and growth."

Catherine Chen, manager of the research team in Shanghai with Cushman & Wakefield, said Chinese private buyers have been focusing on mature markets in North America and Europe, but they have been expanding their investment destinations in South America and Asia in the past few years.
According to Cushman& Wakefield's data, about 34 percent of outbound investment was made in Asia, 29 percent in North America, and 24 percent in Europe between January 2008 and June 2014.

In Shanghai alone, buyers spent some 3.7 billion yuan ($602 million) in the global residential market, showing great purchasing power, according to data from the Savills Shanghai residential sales team.

Investors are considering more factors that may impact stable returns of properties they purchase overseas, including exchange rates, taxes and rental yields, Barnes said.

"In the past, investors may have focuses on growth of value of the properties; now more long-term investors take rental into consideration," said Li Huien, a 56-year-old investor in Shanghai.

Li said investors who are looking at overseas opportunities now have more channels to understand the realty market.

"I often attend promotion events on weekends in Shanghai," Li said. "If there are some events which may bring nice projects in other cities, I will fly to those cities."
Please
contact us
in case of Copyright Infringement of the photo sourced from the internet, we will remove it within 24 hours.