According data from Knight Frank, Chinese overseas investment, which has reached around US$15billion recently, was targeted at
Australian
,
UK
,
US
gateway cities, but they are now looking at higher-yielding provincial options.
Chinese overseas property investment rose 25-fold to US$15billion in the five years to 2014 – and is set to keep growing.
From 2009-2014, Chinese overseas investment skyrocketed from US$0.6billion to an estimated US$15billion, with most focused in the gateway cities of Australia, the US and the UK, but investors are now considering higher-yielding options in provincial cities.
In 2014, Australia saw the strongest growth in inbound real estate investment from China with an increase of more than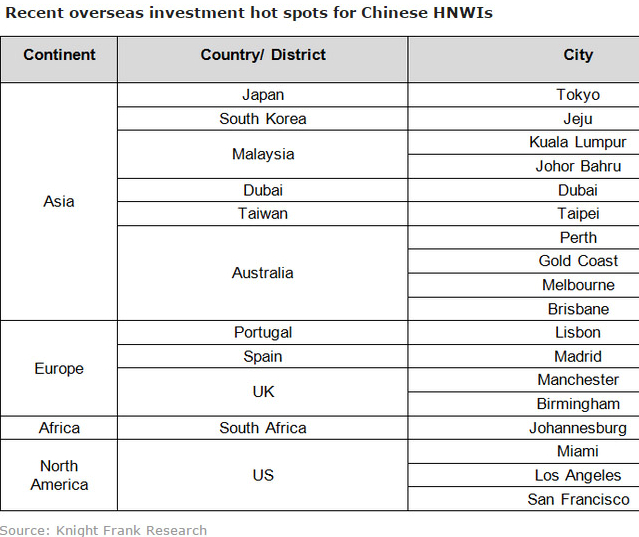 60% year-on-year.
Investors are shifting their focus towards sustainable returns in the long term. The key factors for Chinese investors are the policy push from the Chinese government to diversify into other countries, a softening domestic market and the pull from higher returns achievable in overseas markets.
Australia, the US and the UK are the top three markets most Chinese investors are looking at. Five times as much capital outflow from China into these three markets in 2013 alone compared to the previous year. The transaction volumes from Chinese investors into these three markets will be match or even exceed that of last year in the future.
David Ji, Director, Head of Research & Consultancy of Greater China at Knight Frank, says there is room for further growth from Chinese institutional investors.
"From our knowledge of overseas investment activities, only four of the top 20 Chinese insurance companies have made significant offshore investments, while 40% of them are considering overseas expansion."
Having invested heavily in gateway cities, Chinese investors are moving from core office and residential developments into leisure and industrial assets and are turning from gateway locations to higher yielding leading provincial cities.
Thomas Lam, Senior Director, Head of Valuation & Consultancy at Knight Frank, explains, "Whilst the Chinese HNWI investors become more mature, many of them are beginning to explore new investment opportunities and hot spots around the globe, such as Johor Bahru in Malaysia, Gold Coast in Australia, and Los Angeles and Miami in the US.
"All these hot spots present investors with higher yields than traditional overseas investment locations like London, New York and Sydney."
"Compared with key Chinese gateway cities such as Beijing and Shanghai, a number of recent investment hot spots have shown a discount in prime residential prices. For example, Los Angeles and Miami prime apartment prices are both about 25% lower than Shanghai, drawing significant interest from HNWIs in China."