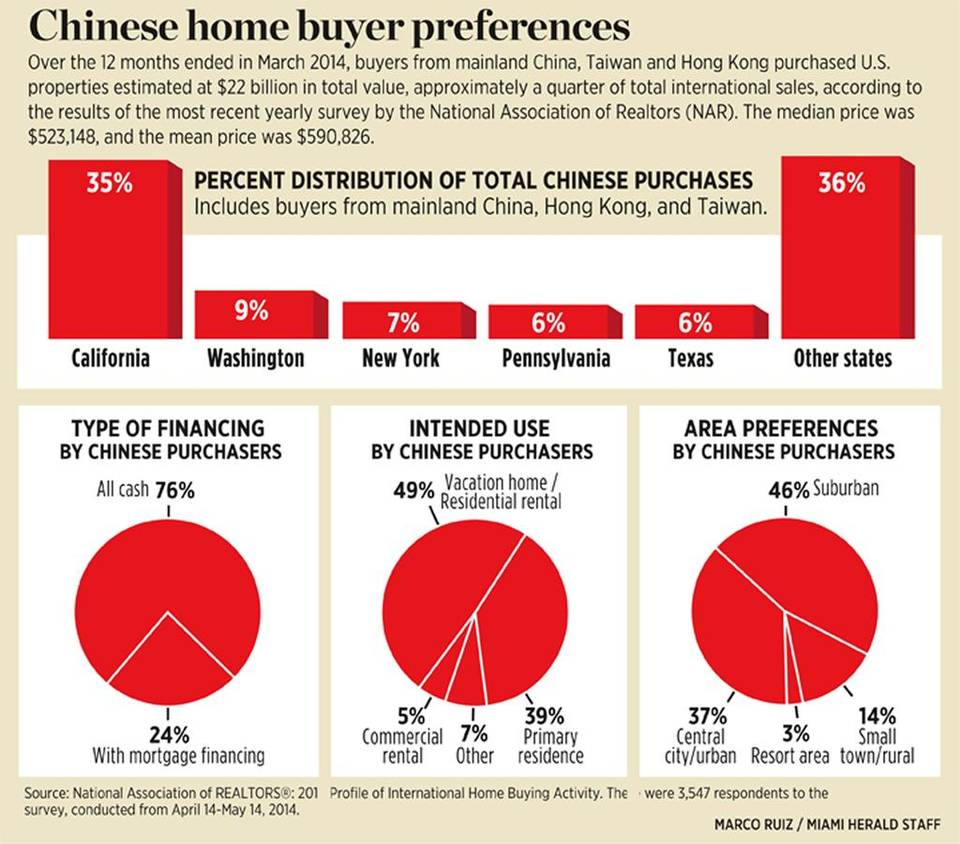 Over the past several years, the majority of Miami's real estate buyers have predominantly hailed from Latin America and Europe —no wonder, given our location and international culture. Today, change is on the horizon as buyers from China emerge as the next wave of savvy investors. While buyer numbers are still relatively low for us in Florida, the sheer size and growing desire for outward real estate investment paired with the increasing wealth of the Chinese presents a monumental opportunity for our industry. But we need to start laying the foundations now to forge strong ties with Chinese investors as well as movers and shakers in the local market in order to reap success in the not-too-distant future.

The volume of Chinese buyers in the United States is increasing, slowly. According to the National Association of Realtors, the Chinese accounted for 16 percent of foreign property buyers in the U.S. during the 12 months ending March 2014, up from 12 percent in 2013. During the year, the Chinese purchased $22 billion of U.S. properties with a median home price of $523,148.

Typically, Chinese buyers have purchased real estate in Los Angeles, San Francisco and New York, but South Florida is starting to catch their eye. While Chinese buyers accounted for only 2 percent of all international closed sales in Miami-Dade and Broward counties in 2014, this is a 50 percent increase from 2012 and 2011 figures. A recent NAR survey conducted for the MIAMI Association of Realtors indicated that China is one of the fastest-growing segments of South Florida international buyers and we have certainly seen their increased interest in our new development projects PARAMOUNT Miami Worldcenter and PARAMOUNT Fort Lauderdale Beach.

I recently attended the ninth annual Luxury Property Show in Beijing where more than 5,000, invite-only, high net worth Chinese real estate buyers and investors perused the most coveted properties from more than 35 countries. What these sophisticated buyers are starting to realize is that we have all of what they have on the West Coast and New York, yet our real estate is extremely affordable when compared to these destinations and, of course, we have a very favorable taxation environment. Long gone is the misconception of the Chinese that South Florida is just a place for sun, surf, sand and play, nowadays they are seeing all the growing cultural offerings we have as well as the opportunity for astute investment.

Chinese buyers are drawn to Miami because of our top-tier colleges and universities and they see our city as a vibrant business center with ease of access to and from anywhere in the world. When the project to expand the Panama Canal to allow large cargo vessels to pass through is complete, PortMiami will become an important shipping hub for Asia, and once direct flights to and from Miami and China are established, opening the gateway will allow for an easier connection between the two.

The Chinese have the chance to make the U.S. a true home. China recently struck mutual 10-year visa agreements with the U.S and Canada. And Florida has been designated as a regional center under the EB-5 visa program. Foreigners who invest $500,000 to $1 million in an American project that creates at least 10 jobs will be granted residency. Putting into perspective, the same type of program in Australia requires nine times that investment — $4.5 million.

The EB-5 can serve the needs of our active developers keen to build a world-class city as well as the growing Chinese middle class who are eager to invest their money off shore. In fact, China ranks as the No. 1 country of EB-5 originators with approximately 8,000 visas issued to Chinese nationals in 2014.

Not only is what we have to offer attractive, a perfect storm is brewing on their home front. Currently, a Chinese national can only invest the equivalent of $50,000 a year overseas but there are talks this policy may soon be relaxed. This, paired with recent findings by UBS and PricewaterhouseCoopers revealing that a new billionaire was created in China almost every week in the first quarter 2015, all points to an increased outflow of investment and we must be ready when it comes.

In order to conduct business successfully in China, it is all about creating and nurturing lasting relationships with not only buyers, but fellow brokers, financial advisers and attorneys. These relationships take time and require frequent, in-person meetings to sustain.

Cultural nuances must be respected, including executing the correct protocol when exchanging business cards, maintaining eye contact during a conversation rather than looking at a translator, and being aware of the different dialects throughout the region when translating marketing materials. It has taken me some time, many trips to China, and even working with brokers from Australia and New Zealand who are more accustomed to conducting business in the Asian culture, yet it makes a world of difference in solidifying productive relationships.

Chinese buyers have been making news with their increasing interest in Miami and major investments in the city, including China Communications Construction Company U.S. International's purchase of a 2.4-acre site in Brickell last year for $74.7 million and Hong Kong-based Swire Properties' $1.05 billion mixed-used Brickell City Center, which is currently under construction.

With the increase of Chinese wealth, the push for outward investment and the growth of Miami, our industry will flourish from the good Chinese fortune.


Estimate of international sales from major buyers (per billion dollars)

Country

2013

2014

Sales

($)

Sales

(%)

Sales

($)

Sales

(%)

Canada

$11.8

17

$13.8

15

China

$12.8

19

$22

24

Mexico

$3.6

5

$4.5

5

India

$3.9

6

$5.8

6

United

Kingdom

$4.2

6

$5.8

6

Total international sales

$68.2

$92.2
Source: National Association of Realtors