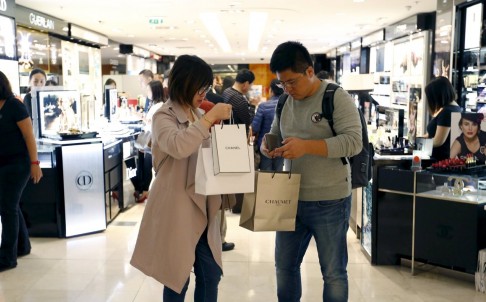 The number of stores on Oxford Street, London owned by Hong Kong investors has risen nearly two times over the past two years, making Hong Kong the second largest ownership group behind investors of
UK
origin.

Their appetite in overseas commercial properties will continue given rising pressure on the decline in Hong Kong shop rents amid weakening retail sales in the city. On the other hand, rents in prime street shops in Britain and Europe are on the rise, backed by an increasing number of mainland tourists.

Hong Kong is the second largest ownership group behind investors of UK origin, owning 9.7 per cent of stores on the Oxford Street, according to the data from International property consultant Savills.

The number of shops on the street owned by them rose 188 per cent over the past two years, it said.

Major transactions this year included Emperor International Holdings purchasing 25 – 27 Oxford Street for £35.5 million in May 2015 and a private Hong Kong investor acquired 175 – 179 Oxford Street for £58 million in March 2015, said Savills.

Jonathan O'Regan, Central London investment director at Savills, said: "Hong Kong investors have been very aggressive in their pursuit of prime assets on Oxford and Bond Street. We believe this appetite will continue, particularly given the current economic situation in China and the effect on rents on luxury streets in Hong Kong."

Hit hard by slower growth in tourist arrivals and a drop in luxury sales, Hong Kong retailers are facing a challenging environment. Shop landlords are facing tenants asking for rent cuts or moving out.

Savills said investors from Hong Kong understand the strength of the London property market, and are particularly attracted to retail assets due to long leases and good rental returns with the possibility for growth.

Last week, Hong Kong's Peterson Group announced its acquisition of the full interest of Great Northern Warehouse in Manchester and will turn it into a £300 million regeneration project that will become a 780,000-sq-ft world-class residential, commercial and leisure are for Manchester.

On Bond street, Savills finds there has also been an increase of 50 per cent of stores under Hong Kong ownership since 2013, putting Hong Kong in fifth position, with the number of stores owned totalling four per cent of the street. Investors of UK origin own 54 per cent of Bond Street, French own nine per cent, and Irish and Italian both own eight per cent.

Anthony Selwyn, head of Central London retail at Savills, says: "The significant increase of Hong Kong investors on Oxford Street is a reflection not only of the rental growth story but also those investors understanding prime global retail locations and the strong returns they can deliver."

CBRE did not see a general trend of shifting of capital from Hong Kong's retail market to other gateway cities. But the property consultant noticed that the high-net-worth-individuals in China have been spending more in the world's gateway cities in recent years.

"Retail property investment requires high level of operational expertise, particularly shopping centres, and therefore it is not easy to shift from one market to another market," said senior director Ada Choi.

Richard Barkham, Global Chief Economist, CBRE, added: "We have felt for a while that luxury retail in Paris was gaining a disproportionate share of spending from Chinese tourists due to easier visa access."

Barkham thinks the changes may amount to an annual increase in retail spending of £63m in Europe from now on, of which about £37m will be spent in London.

CBRE said that is a very material boost to London's shops and will encourage more retailers to try to enter the market.

Bucking the trend of declining retail rents in Hong Kong, rental growth in Milan reached four per cent quarter-on-quarter and Rome saw retail rents up 12 per cent. Both cities have seen steady demand for their best streets with significant interest from international brands driven by strong tourism figures, according to CBRE.

Rents of prime high streets in Europe, Middle East and Africa saw growth of three per cent in the second quarter representing year-on-year growth of 6.9 per cent.

Reuters
Please
contact us
in case of Copyright Infringement of the photo sourced from the internet, we will remove it within 24 hours.