Chinese Investors Expand Acquisitions Worldwide to Tap Outbound Chinese Travellers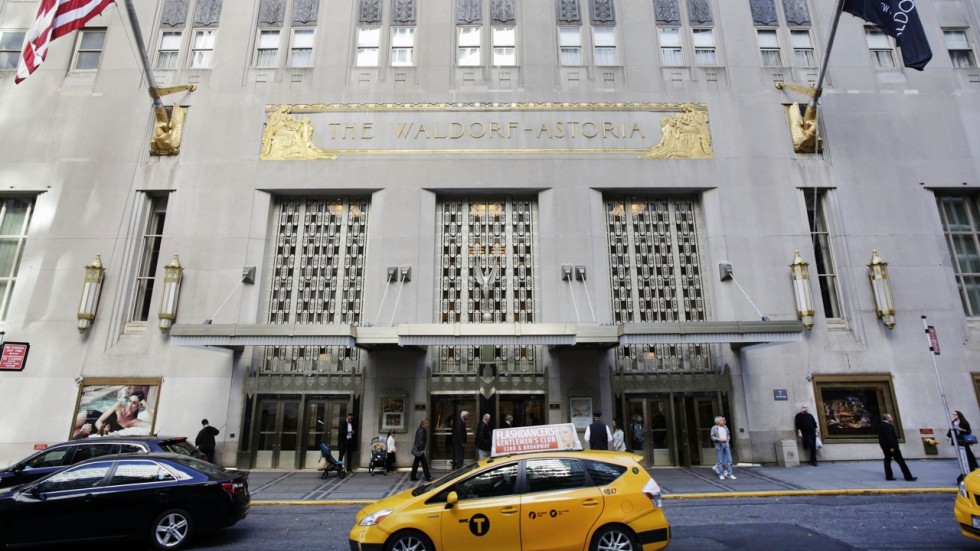 A New York city taxi passes in front of the fabled Waldorf Astoria hotel in New York,
which
was
purchased
by
a Chinese insurance company as part of an outflow
of investment
outside
the country.
HSBC did a survey pegging outbound Chinese traveller numbers are expected to hit 242 million by 2024 which is more than double last year's amount estimated by HSBC to be 116 million.
With that in mind, Chinese investors are hot on their heels with an extensive and growing list of global luxury hotel developments and acquisitions.
Chinese investors have become major players in the hotel market over the past 24 months and in 2015 alone have been responsible for acquiring US$5 billion worth of hotel assets outside China as of September, according to property consultants.
In a CBRE survey, hotel acquisitions by Hong Kong and mainland China money rose from 2014's US$3.2 billion to US$6.5 billion in the first three quarters of this year. The money has doubled annually since 2012.
"We expect to see significant outbound investment from a number of Chinese groups next year and once again hospitality assets will continue to be on their radar," Aaron Desange, senior Vice President Investment Sales Asia, said. "It is anticipated that global outbound Chinese investment will surpass levels reached in 2015 of approximately US$5.3 billion."
"We are seeing a substantial amount of capital seeking offshore opportunities with the majority of these groups being large private conglomerates with real estate and construction exposure. These groups remain keen on acquiring trophy assets in key gateway global cities like New York, Tokyo, Sydney and London."
"They are also starting to focus their attention towards Chinese outbound tourism markets including luxury resort destinations," said Desange, adding that a property consultant has recently undertaken transactions in the Maldives with Chinese investors.
Robert McIntosh, executive director, CBRE Hotels, Asia Pacific, said capturing the growth of rising Chinese tourists is a reason for mainland investors to buy into hotel assets.
"A lot of Chinese travellers going overseas. Chinese (hotel) owners have a great opportunity to take advantage of that," said McIntosh.
In addition, a recent report by the Fung Business Intelligence Center and China Luxury Advisors found that outbound Chinese travellers spending will hit US$422 billion by 2020, up from an estimated $200 billion this year.
McIntosh expected more Chinese hotel operators to buy assets overseas.
Traditionally American and European hotel operators dominated the market because those were the people travelling before. It was comfortable for them to stay at these hotels.
"Some of the same things will happen in Chinese hotel brands," said McIntosh.
He said the diversification issue is another major reason for their purchases. "They want to buy in different markets," he said, adding that the luxury hotel business in China has been slowing.
In 2015, the top countries that Chinese money liked to go in the past year were the US, France and Australia, according to CBRE. Major transactions in the past 12 months are the Waldorf Astoria in New York for US$1.95 billion, acquired by mainland's Anbang Insurance in October last year, and the Louvre Hotels Group by Shanghai Jinjiang for €1.4 billion early this year.
"Our range of expectations is to see Chinese global hospitality investment in 2016 at levels from 5 per cent to 15 per cent above 2015," said Simon Henry, co-Founder of an online service offering Chinese customers information and services on overseas property purchases.
Historically, the profile of investors attracted to such opportunities has big real estate firms, large hotel operators and insurance companies.The sector will also attract small developers, investment consortiums, family funds and individual investors. Significant hotel assets are relatively expensive, making them unsuitable for smaller group of investors. These investors more commonly buy small hotels or opt for other categories of assets, such as small commercial projects, land and residential property.
Then there is the EB-5 programme in the US which allows investors to obtain permanent residence in that country. Hospitality developments are especially suitable for the EB-5 programme, because the new hotel's staff can be counted towards the visa programme's job creation requirements.
The buying spree also increased hotel prices. In the US, the Average Selling Price Per Room (ASPR) for hotels sold in 2015 through September reached an all-time high of US$165,303. That is a record high and is 11 per cent higher than the US$148,658 recorded in 2014.
Chinese buyers are responsible for helping drive up the average seeking price per room (ASPR).
Two Chinese-buyer transactions in New York City - the Baccarat Hotel in Manhattan by Sunshine Insurance for $230 million or US$2.0 million ASPR and the Waldorf Astoria by Anbang Insurance at US$1.4 million (ASPR) pulled the average upwards.

South China Morning Post
Please
contact us
in case of Copyright Infringement of the photo sourced from the internet, we will remove it within 24 hours.