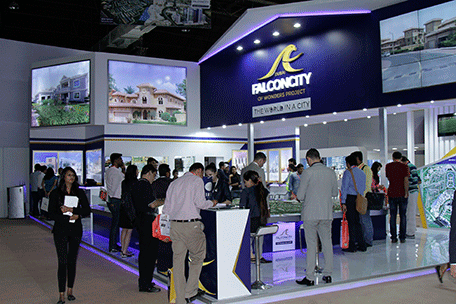 Falconcity of Wonders stall at DPS (Supplied)
The property show, which has met with resounding success in London and Mumbai, will be held in Hong Kong Convention and Exhibition Centre from January 28 to 30, 2016.
Organised by Sumansa Exhibitions, the show will give investors the chance to view and understand the various existing and upcoming real estate developments, giving the opportunity for a face-to-face interaction with company officials.
Data issued by the official sponsors of the show, reveal that Chinese citizens invested Dh1.77 billion (HK$ 3.73 billion) in 2014 in the Dubai's real estate market. Moreover, Chinese investors are in the top 10 list of expatriate nationalities investing in the market.
Sultan Al Suwaidi, Partner, Sumansa Exhibitions, said: "Hong Kong is one of the leading international finance centres and the business and commercial capital of Asia with a major capitalist service economy characterised by low taxation and free trade.
"It has one of the most active traded currencies globally, and such features make it a fertile market for developers to explore. With Dubai Property Show in Hong Kong, exhibitors will be able to reach out to one of biggest realty customer bases of the emirates."
The event will allow developers to build their credibility and create brand awareness through positive word of mouth, find new customers and fortify relationships with existing ones.
Many wealthy Chinese have been buying properties overseas to diversify their investment portfolio and can find Dubai attractive partly because they believe they can achieve returns of as much as 30 per cent annually which beats Hong Kong, Shanghai and Beijing.
The property show will also provide a platform for not mere wealthy investors, but to the general public on investment opportunities in the affordable housing segment in Dubai. More than 300,000 Chinese now visit Dubai each year as tourists, which is almost always a leading indicator for property transactions.
A survey by a Chinese property portal, in September 2015, found 1,200 per cent increase in buyer interest for properties in Dubai as Chinese buyers have started to move beyond the traditional gateway cities of Hong Kong, Singapore, London, New York, Los Angeles and Sydney.
a company that compiles and analyses property price performance of the world's big economies puts returns on investment in Dubai of up to 7.21 per cent compared to only 2.82 per cent in Hong Kong.

Emirates 24|7
Please
contact us
in case of Copyright Infringement of the photo sourced from the internet, we will remove it within 24 hours.