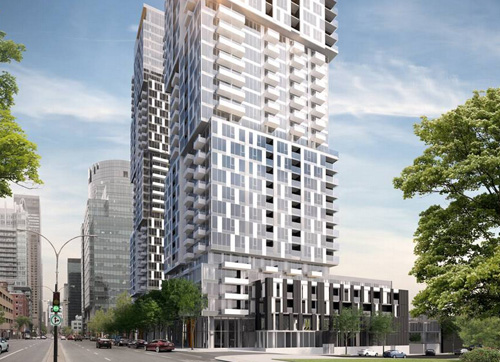 Tianco Group's Montreal project is 38-story luxury condo tower and townhouse complex
called YUL, a nod to the city's airport code.
TORONTO—Chinese residential developers are widening their beachheads in Canada as demand for homes grows in part from people of Chinese descent.
Tianco Group Inc., DongDu International Group and Greenland Group are among the Chinese-controlled developers that are planning to increase their activity, executives of those companies say.
Part of Canada's allure to developers is that many cities, including Vancouver and Toronto, have established Chinese communities. Most Chinese developers don't market exclusively to Chinese buyers, but it doesn't hurt that they have brand recognition with many Chinese immigrants, some executives working for Chinese developers say.
The Chinese are the second-largest visible minority group in Canada, comprising 4% of the population in 2011, according to the latest census.
Most mainland Chinese developers focused on projects within their own borders until the past 10 years. Motivated partly by their desire to diversify, some initially began expanding with projects in other Asian countries. About five years ago, Chinese developers began establishing a toehold in major markets in the U.S. and Canada, sometimes by forming joint ventures with established North American players.
Some developers have been forecasting an increase in demand among Chinese and others for houses and condominiums in North America, both for residences and for investment purposes. "Because of our deep relationship with many of the broad network of Chinese home buyers, we feel we can harness some of that opportunity when we go outside the country," said Kai-Yan Lee, managing director for a property company in USA, which has invested about $1 billion so far in San Francisco and New York projects valued at more than $3 billion.
Lately, real-estate experts have questioned whether the slowdown in the Chinese economy might put a damper on demand by Chinese investors. But this has been balanced in part by the decline in the Canadian dollar, which has fallen about 2.5% against the U.S. dollar over the past year and is giving foreign developers more bang for their buck.
Montreal-based Tianco Group, the Canadian subsidiary of Gansu Tianqing Real Estate Co., is among those plotting more growth in Canada. Since 2013, Tianco has invested just shy of 200 million Canadian dollars (US$152.8 million) with one project each in Vancouver and Montreal.
Tianco originally sought a foothold in Vancouver because the city has an established Chinese community and its shareholders were familiar with the city, said Steve Di Fruscia, Tianco's chief executive.
The Vancouver project, which is rezoning, is set to be a six-story condo development in the city's Cambie Corridor. Tianco's Montreal project is 38-story luxury condo tower and townhouse complex called YUL, a nod to the city's airport code.
Currently under construction, and 55% presold, the downtown building will open in 2017. Tianco is the first Chinese-controlled company to fund a high-rise condo in the province.
"We are looking at projects right now in Quebec City," said Mr. Di Fruscia.
The foreign-exchange rate represents a "substantial savings" for the company, and also encourages condo purchases by Chinese buyers, Mr. Di Fruscia said. "Not only is their money safe here, but their money can buy a lot more here."
Although some Canadian provinces restrict foreign ownership of real estate, the bulk of those rules apply to farmland such as in Quebec. There are no restrictions in highly-sought-after locales including Ontario, British Columbia and Nova Scotia.
Shanghai-based DongDu International Group is focused on developing three properties in Nova Scotia, investing roughly C$10 million to date. Those multiyear developments include a residential building in Halifax, a residential development south of the downtown core and two resort locations near St. Mary's, Nova Scotia.
"We're probably about two months away from raising a North American fund that we will look at opportunities across North America—Canada and the U.S.," said Ken Creighton, vice president and regional general manager of DDI Asset Management LLC.
Greenland Group, based in Shanghai, has also established a presence in Canada. Its King Blue project, under construction in downtown Toronto, includes a luxury boutique hotel, two high-rise residential towers and a new 10,000-square-foot home for Theatre Museum Canada.
King Blue's signature feature is the revitalization of its popular historical facade. The condo portion is more than 90% sold.
"Greenland Group targets the world's megacities with large tourism and business growth potential," said Henry Cao, president of Greenland Group (Canada) in an emailed statement.
"We believe Canada is a great country for investment. All major cities in Canada will be attractive to us," he said.

Wall Street Journal
Please
contact us
in case of Copyright Infringement of the photo sourced from the internet, we will remove it within 24 hours.