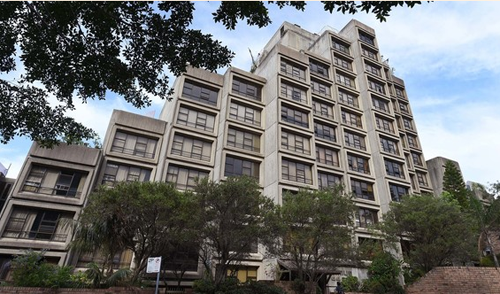 Australia approved $24bn Chinese property investments in 2014–15, double the value in the previous year, reflecting surging demand for overseas real estate even as Beijing's economy cools.
Figures published over the weekend by Australia's foreign investment review board also show increases in the value of approvals for Chinese investments in agriculture, finance and manufacturing. China is Australia's biggest foreign investor with A$46.5bn approvals, almost double the number two-ranked US's A$25bn. Total foreign investment approvals were A$194bn last year, up from A$167bn in the year to end-June 2014.
China's investment in the US and Europe is also at record highs, underlining Beijing's growing importance in supporting global growth and as a source of inward investment.
The Firb data suggest fears of waning Chinese flows because of slowing economic growth, increasing capital controls and tighter Australian regulatory scrutiny may be overdone.
However, economists caution that the data, which covers the period to end-June 2015, misses any recent slowdown in foreign property investment. Moreover, not all approved deals materialise: a study of completed deals by KPMG and University of Sydney found Chinese investment in Australia, excluding residential property, fell to US$8.35bn in 2014, from US$9.19bn in 2013.
"There is evidence that the Chinese authorities are placing informal or defacto controls on people attempting to take money out of the country and this may be having an impact," says Saul Eslake, an independent economist. "It may be one of the reasons that recent data covering the past six months shows a fall off in building approvals for new apartments. Banks have also tightened lending requirements on all investors and this is probably a factor."
This week Malcolm Turnbull, Australia's prime minister, will follow in the footsteps of other world leaders by leading the country's largest trade mission to China. Together with 1,000 business executives he will focus on increasing Australia trade with China, which was worth A$150bn in 2015.
However, the trade mission takes place amid growing public unease about the rising tide of Chinese investment in residential property, public infrastructure and agriculture which has prompted Canberra to tighten foreign investment rules and boost scrutiny of deals.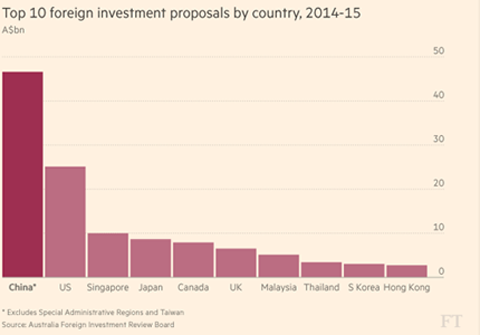 In November Canberra blocked a proposed A$350m purchase of S Kidman & Co — a company controlling Australian farmland that is three quarters of the size of England — by Shanghai Pengxin, citing concerns about the scale of the land deal and proximity to a missile testing site.
Last month Canberra responded to security concerns raised by the sale of Darwin port to Chinese company Landbridge by requiring Firb approval for future infrastructure sales by states.
But many remain bullish about Chinese investment continuing in residential property.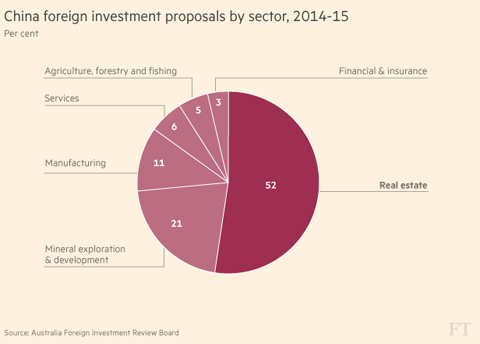 This wave of Chinese money flooding into the Sydney and Melbourne property markets has sparked a debate over the impact on the local housing market. Some say it is forcing up prices and preventing first time buyers from buying houses or apartments. Others say it is driving a building boom, which is supporting an economy suffering from the commodities bust.

Financial Times
Please
contact us
in case of Copyright Infringement of the photo sourced from the internet, we will remove it within 24 hours.