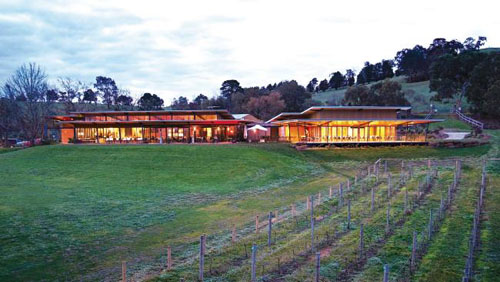 Balgownie Estate's Yarra Valley property features a luxury resort set among the vines.
Listed Chinese investor Interactive China Cultural Technology Investments has plunged further into Australia's tourism sector, splashing out almost $29 million on the Balgownie Estate luxury resort, spa and winery across Yarra Valley and Bendigo.
The transaction represents the group's third investment in the sector after spending more than $17m in late 2015 acquiring two granges, Lancefield Estate and Hepburn Springs, near Daylesford, with winery accommodation, conference centres and land for development.
Developed by former FKP Property Group executive Rod Forrester, Balgownie Estate comprises two parcels totalling almost 110ha in the Yarra Valley and near Bendigo. The larger Yarra Valley property features a luxury resort set among the vines.
There is also a significant development component, with capacity for more than 40 apartments across the properties. The portfolio includes a 7ha vineyard with chardonnay and pinot noir plantations, and a 30.5ha vineyard with cabernet sauvignon and shiraz vines planted in 1969.
EY is understood to have handled the sale, but partners did not respond to calls for comment. The move comes as the Hong Kong-listed group with a focus on mobile phone and communications technologies looks to diversify its portfolio to capitalise on rising Chinese tourism in Australian wine regions.
"The group seized on the trend of the growing popularity in overseas leisure holidays and cultural immersion activities to develop an accommodation facility business in Australia since 2015," the group told investors following the transaction.

The Australian
Please
contact us
in case of Copyright Infringement of the photo sourced from the internet, we will remove it within 24 hours.