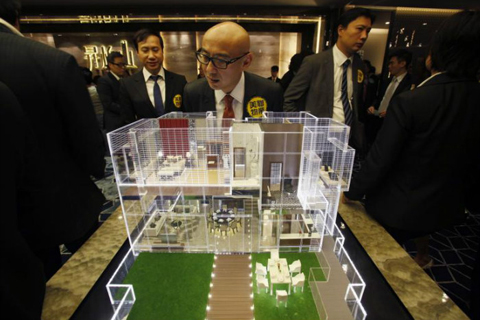 Inquiries for Canadian homes for Chinese buyers jumped 134 per cent in the first quarter from a year earlier. The figure tracks the total number of queries sent to the agent, developer, or seller of a Canadian property listed on the website.
The increased interest indicates that Chinese investors may be seeking to move money abroad amid instability in the country's economy and stock market, even as the government clamps down on capital flight. A survey of real estate agents who work with mainland Chinese buyers found that 55 per cent expected international property purchases to increase as people sought a safe haven for cash. Canada, particularly the cities of Vancouver and Toronto, has long been among the top targets for property investors from the Asian country.
China's Shanghai Stock Exchange Composite Index has tumbled more than 40 per cent from a June high and in August the country unexpectedly devalued its currency. President Xi Jinping earlier this year tightened the noose to prevent capital outflows, and the country has rules that Chinese citizens can move only $50,000 abroad annually, yet those are sometimes flouted.
"Sure it's tough to get your money out today. It may be tougher tomorrow," said Thomas Davidoff, associate professor specializing in real estate at the University of British Columbia's Sauder School of Business. "Vancouver is attractive. In the long run, your asset is protected. You feel safe about the asset, which is going to be critical to somebody in" a country such as China.
In Vancouver – where the average home price has jumped almost 40 per cent in five years – Chinese demand is concentrated in the luxury market, according to a high-end real estate agent in the city. Chinese buyers this year have purchased about three-quarters of the properties for sale in West Vancouver, where the average price of a detached home is $3.1-million.
Mr. Hasman said he has sold about 15 homes worth at least $8-million each so far this year, including a waterfront 6,600-square-foot penthouse in the Coal Harbour neighborhood, listed at $19.8-million.
"This year is busier than last year," said the agent, who said it's common for him to see multiple bids on homes as pricey as $10-million. "I just don't see any slowdown in Chinese money driving the Vancouver market."
Chinese investment also has soared in countries such as Australia and the United States. Chinese investors doubled purchases of commercial and residential real estate in Australia to $18.4-billion (U.S.) in the 12 months through June, 2015, from a year earlier, according to that country's Foreign Investment Review Board. In the United States, they surpassed Canadians as the top foreign buyers of homes, with $28.6-billion of deals in the 12 months through March, 2015, data from the National Association of Realtors show.
The total value of all Canadian properties that Chinese made inquiries for almost tripled to $14.9-billion in 2015 from $5.6-billion in 2014. The top city by total value of properties searched was Toronto, where it more than tripled to $7.4-billion. In Vancouver, the second-most in-demand city, it more than doubled to $2.5-billion.
Quebec had the biggest jump in interest, with $764-million searched, more than triple the 2014 value. The biggest motivator for foreign buyers was education for their children. In British Columbia, where the biggest city is Vancouver, about one-fifth were motivated by investments, lower than the 26 per cent of Toronto buyers.
Canada is trying to find just how much foreign investment exists in the real estate market. A national housing agency estimates that about 10 per cent of new condominiums bought in downtown Toronto belong to non-residents. In Vancouver, Chinese buyers account for about 33 per cent of the market, according to "back of the envelope" calculations by National Bank of Canada.
The government has increased its focus on the opaque market. The province of British Columbia will require home buyers to disclose their citizenship, while the federal government has given Statistics Canada half a million dollars to research foreign buyers.

Sourceable
Please
contact us
in case of Copyright Infringement of the photo sourced from the internet, we will remove it within 24 hours.