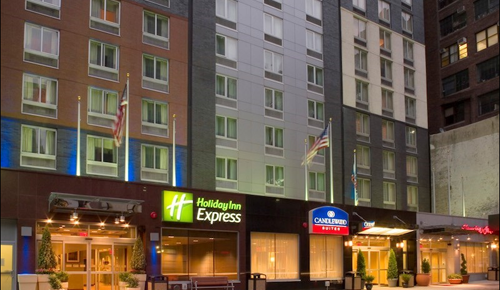 Hersha Hospitality Trust makes another move in its capital recycling program with the sale of seven Manhattan hotels through the closing of a joint venture with China-based Cindat Capital Management Ltd. The price tag on the 1,087-key group of premium limited service hotels was $571.4 million.
There are few spots in Manhattan that aren't hot so the portfolio, with properties developed between 2003 and 2010, is well-located. Three of the hotels—Candlewood Suites, Hampton Inn and Holiday Inn—sit side-by-side in Times Square. The remaining assets include Hampton Inn Chelsea, Hampton Inn Herald Square, Holiday Inn Wall Street and Holiday Inn Express Water Street.
The Manhattan lodging market is thriving and therefore irresistible not only to lenders but to investors as well, particularly those in China. In 2015, Chinese investment in the U.S. hotel sector accounted for 36 percent of the total real estate acquisition activity in the country, with the bulk of the capital flows going into Manhattan, according to a report by a commercial real estate services firm . China-based Anbang Insurance Group Co.'s $1.95 billion acquisition of the landmark Waldorf Astoria put an exclamation point on the trend.
As for Hersha, the REIT will follow its strategy of recycling capital from stabilized properties into higher growth assets, utilizing a portion of the approximately $300 million in proceeds from the seven-property sale to invest in hotels in Washington, D.C., and California. Of course, Hersha is still keen on Manhattan, and it won't even have to share all of its toys , as it still has full ownership of 10 hotels in the borough.

Commercial Property Executive
Please
contact us
in case of Copyright Infringement of the photo sourced from the internet, we will remove it within 24 hours.