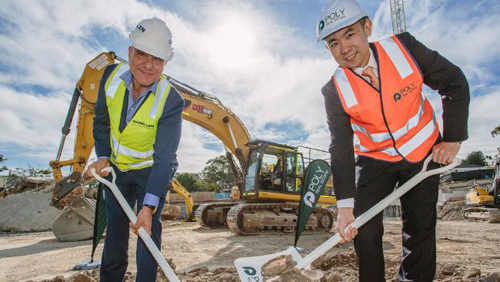 Peter Maneas, chief executive of Ganellen, left, with Poly Real Estate
Chinese property giant Poly Real Estate has revealed ambitious plans to expand in Australia just two years after setting foot here by looking to move beyond residential development into commercial property and take a leap into seniors housing.
Poly sees these areas as the three pillars of its future business in Australia.
With the seniors housing plan, a wealthy Chinese retiree could live in Beijing and spend time each year in Poly facilities in Sydney or Los Angeles, said Poly Real Estate Australia managing director Arthur Wang.
A relatively late comer to Australia compared with some other Chinese developers, Poly has five residential development projects in hand so far, including the Epping Horizon project in Sydney's northwest, where construction started this week after 70 per cent of apartments were pre-sold.
The company is moving to set up a commercial asset portfolio internationally, said Mr Wang, who is also the head of Poly's international business overseeing all the company's outbound investments.
"I can tell you for our mandate, or requirements of our entire Poly business, that we have been trying to look at different commercial acquisitions," he said. "It's also a major part of our international investment strategy."
Poly made its first acquisition in London this year, buying an office building for £150 million ($299m), and is looking to buy a second property in the city. The company is in the process of buying two office buildings in the US.
"We have been looking at related asset classes in Australia for a while," Mr Wang said. "We see ourselves more like a combination of a developer role and an institutional investor role, just like what we do in China."
The company is listed in Shanghai. It has more than 350 development projects across 70 cities in China, along with about 50 office buildings in core cities, 30 five-star hotels and 30 shopping malls.
Apart from commercial property, Poly is preparing to venture into seniors housing in Australia, which will be integrated into its global network to provide "migrant retirement housing" .
"We have already set up a club," Mr Wang said. "Every senior citizen joining that membership pays a fee and wherever they are — for example, Beijing, Guangzhou or Chengdu — they can stay in Sydney for three months and then the other three months they can stay in Los Angeles, wherever they want. We are going to set up a global network for them. Our view is to make senior people's lives more versatile, not just sticking to one place."
Poly has looked at individual projects here in Australia and is also considering a portfolio of senior housing projects or even company mergers and acquisitions. "The key of that business in Australia is trying to find an operator. It's not just property, it's more about service. To find a qualified service provider is the most important thing."
While there has been talk that Chinese companies may face foreign currency hurdles when investing overseas, this had never been a problem for Poly, Mr Wang said.
"It has been years for Poly to have an international investment pool. We flow our capital smoothly," he said, adding Poly was committed to expanding its overseas portfolio.
Poly Real Estate's annual revenue reached 150 billion yuan ($31.3bn) last financial year, while expected revenue from its international portfolio would be only 8bn yuan in the next three years.