Chinese buyers purchased $27.3 billion in US residential property in the year to March, exceeding the value of the next four largest overseas investors combined in terms of dollar volume and making them the top cross-border buyer of American real estate for the fourth consecutive year.
A study released this month by the National Association of Realtors (NAR) found that, despite a 4.5 percent drop in the value of US home purchases by buyers from mainland China, Hong Kong and Taiwan compared to the previous 12 months, investors from Greater China still spent three times as much on houses compared to buyers from Canada.
Investors from north of the US border held onto second place among foreign buyers of US housing with $8.9 billion in purchases. In terms of the volume of transactions, Chinese purchasers bought the most housing units for the second consecutive year with 29,195 traded, although this represents a 15 percent drop from the 34,327 homes purchased in the year which ended in March 2015.
Chinese buyers also spent more on housing at a median price of $542,084, higher than the median value paid by foreign buyers at $277,380, reflecting a wealthier class of Chinese showing interest in U.S. real estate.
Slower Growth and Stronger Dollar Tamp Down Sales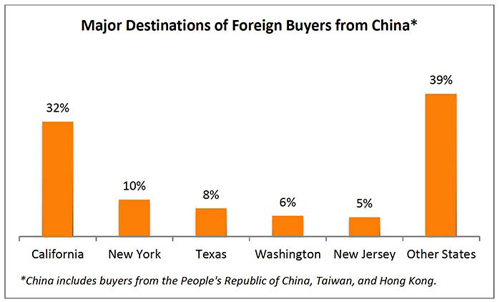 However, the 1.3 percent decline in dollar volumes in the overall level of foreign purchases from its peak last year reflects a trend of weaker growth abroad coupled with a stronger dollar and rising house prices in the US.
"Both the increase in U.S. home prices – up 6 percent in March 2016 compared to one year ago – and the depreciating value of foreign currencies against the U.S. dollar made buying property a lot pricier last year," noted NAR chief economist Lawrence Yun. When measured against each country's domestic currency, eight nation's including China and Canada saw the median price of an existing home in the U.S. increase by double-digit rates during 2015
Although a steep increase, Yun adds that the value of RMB against the dollar still remains relatively strong over a longer stretch of time, heightening the appeal and affordability of U.S. real estate for Chinese buyers.

Mingtiandi
Please
contact us
in case of Copyright Infringement of the photo sourced from the internet, we will remove it within 24 hours.