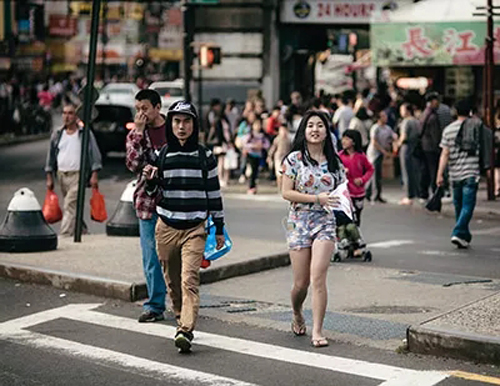 Flushing has grown into one of the largest Chinese communities in the US
NYSE-listed Xinyuan Real Estate has purchased a theatre in Queens, New York from JK Equities LLC for $66 million, as the mainland Chinese developer prepares to build its third condo project in New York City.
Xinyuan, which in 2012 was the first major mainland builder to invest in the New York market, acquired the RKO Keith's Theater, a shuttered landmark in Flushing, Queens, in an area that is rapidly becoming a centre for Chinese immigration to New York's outer boroughs.
JK Equities had acquired the theatre site in 2013 for $30 million, and subsequently gained approval to convert the theatre, which started life as a vaudeville house that hosted the Marx Brothers and Mae West, into a condo development yielding up to 269 units.
With the transaction, Xinyuan, which says that it has sold as much as 75 percent of the Oosten project that it acquired in Brooklyn's Williamsburg area four years ago, will become the fifth developer to take on the task of converting the landmark theatre into a commercially viable project.
Luring Chinese High Rollers to Queens
In a move that should attract high end Chinese clients, Xinyuan has reportedly hired Pei Cobb Freed & Partners, a design firm co-founded by award winning Chinese-American architect IM Pei to design the residential project.
"Given the location of this project, we expect it will be appealing to both local and foreign buyers and investors," said Xinyuan chairman Zhang Yong. He added that, "The location for this project in downtown Flushing is ideally situated particularly as there is a shortage of inventory in the higher-end condominium segment."
In recent years, the Flushing area of Queens has become a magnet for Chinese immigration, with the neighborhood being called home by a self-identified Chinese population of 486,463, as of the New York City Department of Planning's 2010 census. Since that time, as China's emerging middle class increasingly look for immigration options overseas, Flushing has attracted a growing stream of wealthier Chinese who are comforted by the steady stream of Mandarin heard on the streets and the shops and signs bearing Chinese characters.

Mingtiandi
Please
contact us
in case of Copyright Infringement of the photo sourced from the internet, we will remove it within 24 hours.