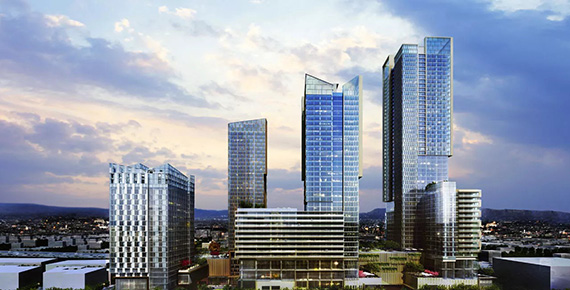 Rendering of the Metropolis project
For Greenland Group executive Winston Yan, the revival of Downtown L.A. looks awfully familiar.
"It reminds me of what's happening in Beijing and Shanghai," said Yan, whose company is developing the $1 billion Metropolis project downtown. "Now it's happening here."
The Chinese developer — and its cohorts such as Shenzhen Hazens and Oceanwide — has ample experience with mega-projects in its homeland. "Their ability to build on this scale is completely child's play to them," real estate lawyer Tony Nasis told.
Indeed, the building boom has become something of a showcase for Chinese real estate companies, which are willing to pay a premium to establish themselves as global brands. Chinese developers are responsible at least seven of 18 land deals downtown since 2014, according to real estate firm Transwestern.
For Chinese developers, foreign markets like New York City, Sydney, and L.A. allow for diversification at a time when the Chinese real estate market has tempered. But building in L.A. does come with a few more headaches, they said.
"The speed is so dramatically different in China," Sonnet Hui, executive project director for Shenzhen Hazens, told. "There's a lot of planning and study here, whereas in China it's just 'Let's go, let's go.' "
Her company is developing a $700-million mixed-use project across from Staples Center.
Many Chinese developers are courting middle- and upper-class buyers straight from China, including Greenland, whose Metropolis has been marketed to both Chinese nationals and New Yorkers.

The Real Deal Magazine
Please
contact us
in case of Copyright Infringement of the photo sourced from the internet, we will remove it within 24 hours.