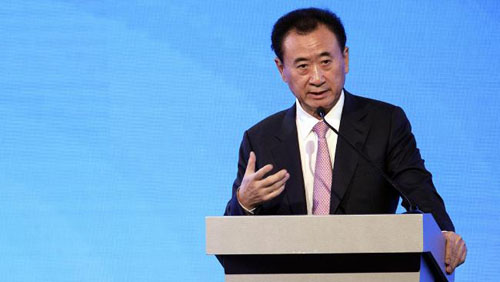 Billionaire Wang Jianlin, is the head of Dalian Wanda, the developer
of the $1 billion hotel and apartment project in Sydney.
More than 60,000 of the richest people in China plan to pour ­millions of dollars into Australian real estate over the next three years, giving new life to a property boom that had been tipped to fade.

A Chinese survey of people worth more than $US1.5 million found 800,000 planned to move their money abroad, with property in Sydney and Melbourne being the investment of choice for many of them.

The Shanghai-based rich-list compiler, the Hurun Report, also found many Chinese millionaires hoped to move to Australia.

The depreciation of the yuan has been blamed for the flow of capital from China into Australian property, the report found, while Australia also appeals because of its advantages in healthcare, ­investment and education.

The publisher's chairman and chief researcher, Rupert Hoogewerf, told The Australian: "It's mainly because you have got the depreciation of the renminbi at the moment.

"As immigration and house-buying destinations, Australia is still very popular. Sydney and Melbourne are still very popular."

Prices in China's major cities have risen so quickly in the past year that "an overseas house seems to offer good bang for your buck", he added.

The survey found 60 per cent of the country's wealthiest people planned to buy overseas properties over the next three years, with an average budget of 5.8 million ­Chinese yuan ($1.12m). "China currently has 1,340,000 high-net-worth individuals, defined as indiv­iduals with US$1.5m, so that means we are looking at a massive 800,000 individuals who want to buy property overseas over the next three years," Mr Hoogewerf said.

Melbourne has been ticked by 3.9 per cent of the respondents as their preferred destination for emigration and property purchases, followed by 3.8 per cent for Sydney and 0.2 per cent for Canberra. Although eclipsed by cities on the west coast of the US, the amount of interest in Melbourne and Sydney indicates local property markets will likely have a longer run with continuing flow of money out of China. "One of the main drawcards will be healthcare — Australia is actually No 1 of the 10 countries in that aspect," Mr Hoogewerf said. Australia's high ranking in investment destination and education were also appealing to the wealthy of China.

A separate report by Hurun also found that 60 Chinese rich-listers had an overseas education, with Australia ranked the second in graduates behind the US. "The thing I found out also about ­Australia is so many of the top Chinese entrepreneurs have their children educated here, and their interest in investing in Australia," Mr Hoogewerf said.

Wang Jianlin, who topped the rich list, is the head of Dalian Wanda, the developer of the $1 billion hotel and apartment project on Sydney's Circular Quay. Xu Rongmao, ranked the 21st-richest person in China, is better known as Hui Wing Mau in Australia. His Shimao Group spent $390m on an office building in Sydney.

"The renminbi is not convertible, but it's down the path to ­become more convertible," Mr Hoogewerf said.

"As that happens, you would expect much more people buying houses and investing overseas."

The Australian
Please
contact us
in case of Copyright Infringement of the photo sourced from the internet, we will remove it within 24 hours.