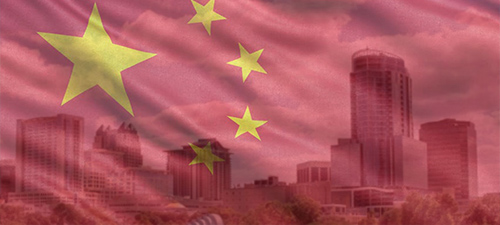 The Orlando skyline and the Chinese flag
Chinese investors are parking an unprecedented amount of cash in residential real estate with an eye on cheaper cities.

In the first half of 2016, investors bought up an estimated $15 billion worth of overseas real estate — a figure that matches the amount spent in all of 2015, Bloomberg reported. The buying frenzy comes as the Chinese government, faced with a weakening yuan, is trying to curtail money from leaving the country by capping foreign-currency purchases at $50,000 a year. Still, investors have found ways to work around this restriction, like through offshore trading companies.

Investors are increasingly turning to unconventional locations, like Thailand's Pattaya Beach and in the U.S., Orlando, Seattle and Houston. The shift comes as prices climb in some of the typical targets for Chinese investors. For example, Hong Kong, once a popular destination, adopted a 30 percent tax on foreign property owners this month. Richard Barkham, a London-based economist for CBRE Group, said similar measures could come to U.S. cities via president-elect Donald Trump.

The most visited property website in the country predicts that overseas buying on its system will increase 130 percent this year. Chinese buyers spent an estimated $93 billion from 2010 to 2015 in America, according to a report earlier this year by the Asia Society and Rosen Consulting Group.

Meanwhile, in the New York metro region, Chinese firms have accounted for $6.44 billion in commercial real estate acquisitions in the past year, according to Real Capital Analytics.

TheStreet.com
Please
contact us
in case of Copyright Infringement of the photo sourced from the internet, we will remove it within 24 hours.