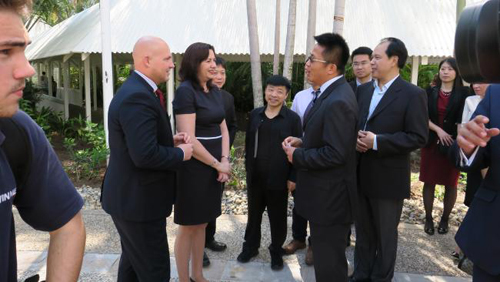 Curtis Pitt, Annastacia Palaszczuk, Fullshare general manager Yi Yu,
Fullshare chairman
Changqun Ji,
China Development Bank representative
Gang Meng, and consul-general Dr Zhao.
Hong Kong-listed Fullshare Holdings has bought a 90 per cent stake in Queensland and Victorian childcare operator Sparrow Early Learning in the group's first Australian investment outside the resorts sector.

Fullshare, controlled by property tycoon Ji Changqun, has ­accumulated tourism properties in Queensland in recent years, including the Sheraton Mirage Port Douglas. It is also developing the Laguna Quays resort project on 2410ha in the Whitsundays.

The company has agreed to buy about 90 per cent of the issued capital in the Brisbane-based childcare operator for $85 million.

The acquisition was in line with Fullshare's "healthy lifestyle"-related investments, which started with childcare and extended to aged care, according to its associated head of investment and finance Jonathan Broughton.

"The focus of Fullshare is very much on promoting a healthy lifestyle," Mr Broughton told The Australian from Hong Kong.

"Tourism assets fall into that bracket because you've got a lot of Chinee tourists coming to appreciate Australia's beautiful natural resources. We are seeing a particular opportunity in education as well."

Sparrow, led by chief executive John Bairstow, runs 15 childcare centres in Brisbane and Melbourne and expects to grow to 24 centres by next month.

Mr Bairstow, along with Sparrow's chief financial officer and national operations manager, will remain with the business and founder Simon Morris will retain a 10 per cent stake. The company would seek growth in existing facilities and a pipeline of acquisitions in brownfield opportunities, Mr Bairstow said.

Mr Broughton said there would be the potential to roll out the Sparrow brand internationally.

"In China there is increased demand for this kind of service with the relaxation of the one-child policy recently, and the ­increased appreciation of international education facilities," he said.

The company started as a construction and property development business in Nanjing more than 20 years ago, and shifted to the healthcare and environmental services sectors in recent years with the aim of being a "leading global provider of a healthy lifestyle", according to its corporate website.

It owns medical equipment manufacturing businesses in China, and will also seek ­investment opportunities in healthcare facilities and medical equipment in Australia, Mr Broughton said.

The Wall Street Journal in September said the company had been a "stockmarket mystery", whose share prices had surged dramatically since its backdoor listing in December 2013.

The company has aggressively issued new shares over past two years and has made multiple related-party acquisitions in stocks and property, in which Mr Ji was the seller, according to the Journal.

The Australian
Please
contact us
in case of Copyright Infringement of the photo sourced from the internet, we will remove it within 24 hours.