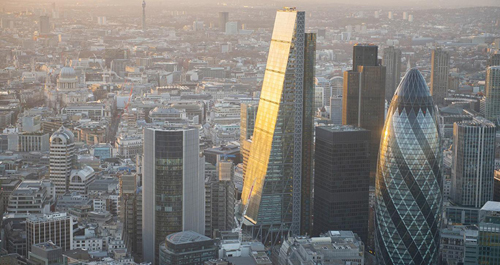 The Leadenhall Building, better known as the Cheesegrater,
is the tallest tower in the City

Joint developer British Land launched a secretive sale of its 50% share in the landmark building late last year through agents Cushman & Wakefield, aiming to funnel the proceeds into other projects. But the auction of the trophy asset — as well as a post-Brexit plunge in the pound — has heightened the attraction of London as a home for overseas cash, particularly from Asia and the Middle East.

Property sources say a contender for the stake is CC Land, a vehicle of Cheung Chung Kiu, a 51-year-old property magnate dubbed the "Li Ka-shing of Chongqing", the Chinese city where he was born. Hong Kong-listed CC Land was focused on western China, but sold most of its projects there last year and is "now sourcing actively potential investment opportunities in China, in Hong Kong, and beyond".

Final bids for the stake in the Cheesegrater, formally known as the Leadenhall Building, are understood to be due next week. If Cheung is successful, it would represent yet another major Chinese investment in City property — the most notable being Chinese insurer Ping An's acquisition of the inside-out Lloyd's Building for £260 million in 2013. One source said: "Don't underestimate the Chinese pride factor here. [Cheung] might want to buy it so he can look down on Lloyd's and Ping An. It would definitely be making a statement."

Cheung has already made one other investment in London: YT Realty, which he chairs, bought the Travelodge Hotel near Liverpool Street station for £43 million last summer. Property agent Savills represented him on that deal and is working for him again on the Cheesegrater deal.

The skyscraper stands 225 metres high and, although smaller than the Shard, is the tallest building in the City of London until overtaken by the planned 22 Bishopsgate scheme and the Trellis at 1 Undershaft.

Oxford Properties, the property arm of the Omers Canadian pension fund owns the other half of the tower and is a tenant in the building.

British Land will use the funds to help finance the redevelopment of 100 Liverpool Street, one of several buildings being vacated by UBS as the Swiss investment bank moves into new headquarters nearby. Sources remain sceptical, however, whether the UK property company will achieve the £500 million price tag demanded.

The Cheesegrater — and the nearby Walkie-Talkie — were the first major City schemes developers made a commitment to after the financial crisis. Despite the tower's success with tenants, giant bolts on the structure had to be replaced after some failed. Cushman & Wakefield and British Land declined to comment.

Evening Standard
Please
contact us
in case of Copyright Infringement of the photo sourced from the internet, we will remove it within 24 hours.