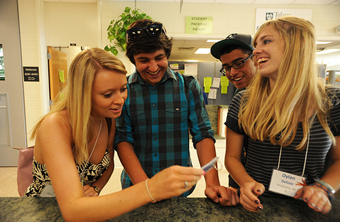 Investment in student accommodation has surged in the past year, according to a new report from CBRE. The research reveals that the market has increased by a remarkable 120 per cent, with a total of £863 million invested in student accommodation in 2011 alone.
The number of students from the
UK
applying for university this year has fallen by almost 8 per cent, according to UCAS, as students are deterred by the increase in tuition fees to £9,000 - three times the current fee level. But the property sector has seen investor applications rise considerably since 2009, increasing by over 100 per cent in the last two years.
Commenting on the 7.6 per cent decline in applicants for September 2011, UCAS told the Guardian that it is "too early to make predictions about the eventual demand for places for this autumn". While students may seem reluctant to pay for higher education now, the impending rise in tuition fees had the opposite effect in 2010, driving students into universities to avoid the hike in cost. Indeed, after applications decreased in 2006 following the last fee increase, the next two years saw figures rebound by 7.1 per cent and, in 2009, by 10 per cent.
Now, the occupancy rate for student accommodation in the UK is at 99 per cent, says CBRE, with the conutry's growing rents increasing yields for investors by 5 per cent in London and 4 per cent nationwide.
"Student accommodation is more attractive than many other asset classes in the current climate and we have seen increasing interest from relatively new parties seeking to diversify their portfolios," the CBRE report adds.
Indeed, with the number of student applications from outside the EU increasing by 13.3 per cent and the buy-to-let market continuing to grow, university halls are set to become even more crowded.