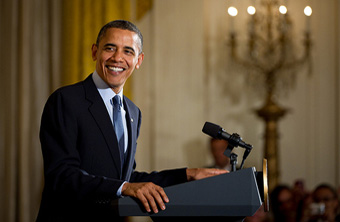 Buy-to-let investment is getting presidential approval in America, as the White House prepares to announce a scheme to sell foreclosed homes for renting.
Government-owned properties, thought to number approximately 250,000, will be sold to investors in an attempt to clear the country's backlog of repossessed homes. A pilot plan is "very close", reports MSN, and arrives just as the
US
buy-to-let market hits fever pitch.
Demand for rental accommodation is strong from residents in the troubled US economy as well as from tourists, and overseas buyers are rushing to take advantage of foreclosures, with buy-to-let property promising high returns on the lowest house prices in decades.
Homeowners looking for extra cash are renting property too. Sub-letting of spare rooms is a popular option for some, while others have started letting out their driveways to capitalise on the need for parking spaces in urban areas. UK company ParkatMyHouse has recently moved across the Atlantic to join in the renting frenzy, as one analyst estimates "the global vacation home rental market at more than $120 billion".
The boom in buy-to-let has also seen scammers vying for a piece of the property pie. Some tourists have rented homes for their stay in America, only to discover that the house is already occupied and not on the market at all.
Stephen Chase in Fort Lauderdale told NBC Miami how people arrived to claim his home after it was listed by a scammer online: "She had mentioned to me that, 'We're here to rent your house,' and I said, 'This house is not for rent.'"
Reliable property portals prioritise buyer security by connecting them directly to the property seller, allowing legitimate buy-to-let investment to grow undeterred. Indeed, as overseas interest in the US stays strong, data released by the National Association of Home Builders shows that 76 markets in America have improved in January - an increase of 35 upon December's survey, according to AOL.
One area experiencing significant improvement is Detroit, as the government accompanies its buy-to-let scheme with investment in the area's regeneration. Robert Stone, Managing Director of Target Markets, who are offering investors a five-bedroom townhouse with up to 17 per cent net yield, comments:
"The US government recently invested a huge amount in Detroit's automotive industry, which is having a big impact on the area's economy and boosting its increasingly strong buy-to-let market."
As jobs, prices and housing permits increase across the country, the outlook for American real estate is appearing increasingly positive for 2012. With the country's foreclosure supply now targeted for reduction, the White House's plans are arriving just in time to reassure buyers that they are right to bet on buy to let.