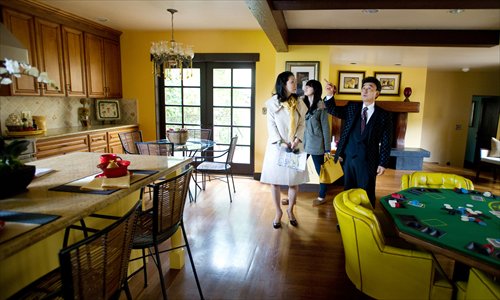 Real estate broker Stanley Lo (right) shows the kitchen of a $4.4 million home in Hillsborough, California to Li Xiaojun, who is from China and preparing to
buy a house in California. Photo: CFP
"Four million yuan [$644,000] for a house in Seattle buys just two toilets in downtown Beijing," said Wen Jiajia, a character in the Chinese movie Finding Mr. Right, indicating soaring property prices in China and the bargains to be had buying housing overseas.
There is mounting evidence showing that not only China's super-rich but also its middle class are flooding into the overseas housing market.
According to a latest research by Jones Lang LaSalle (JLL), a real estate money management and services firm, shows that Chinese outbound investment into commercial real estate increased 124 percent to $7.6 billion in 2013. This compares to $3.3 billion in 2012 and $2.9 billion in 2011.
New York and London are the cities that attracted the most money from China into real estate. In 2013, Chinese investors spent $2.9 billion in New York, and $2.1 billion in London.
According to Alistair Meadows, director of JLL's International Capital Group in Asia Pacific, the initial catalyst for this dramatic rise in outbound investment has been the introduction of the "Go Global" slogan by the Chinese government.
The Chinese seem to be hard-wired to buy houses wherever they are. "In China, we are seeing increasing interest in buying new homes overseas," according to Maureen Yeo, associate director of international project marketing at Knight Frank Beijing.
Yeo noted that the main type of buyer has changed from migration-oriented to investment-oriented.
Chinese people see buying overseas real estate as both investment opportunities and also second homes outside China, according to Affinity China, a travel consulting company. The properties they purchase as personal homes tend to be in the $1 million to $5 million range whereas as investment purchases range from $500,000 to $2 million.
Members of China's emerging middle class have gradually become the major buyers of real estate.
"The median price of houses purchased by Chinese in Los Angeles is $425,000. The split between super rich and middle class is half-half. We see a growing number of the middle class buying more properties." Chen Lili, a realtor from RE/MAX Omega Group in LA, told the Global Times.
"In 2013, the property in Los Angeles appreciated around 20 to 25 percent, in certain areas like Arcadia, the property appreciated 23 to 35 percent," she added, noting that the main purposes of Chinese buying houses overseas are for their child's education and as an investment.
"Nearly 69 percent of Chinese deals were made in cash," Chen said, "Many of them were not aware that they could actually get a loan." More importantly, it is more convenient to deal in cash, especially for those who don't own a US Green Card and face a strict examination process at US banks.
"The domestic real estate industry has come into a bottleneck period. As the government has taken more restrictive measures, the profitability of investing domestic houses is not too optimistic," Hui Jianqiang, research director at real estate information provider Beijing Zhongfangyanxie Technology Service Co, told the Global Times, noting that continually rising prices and tightening measures are combining to push more Chinese investors overseas.
Despite the pursuit of immigration and education, and the fact that Chinese are growing wealthier, both environmental pollution and the political environment are also reasons for outbound Chinese investment, Hui added.
"I don't think I could afford the most expensive house while breathing the most toxic air," Hao Zhou, a postgraduate student at Sydney University, told Global Times, as he is now planning to emigrate to Australia.
Increasing developers
"A number of Chinese property developers are out shopping for commercial real estate. Most of their houses are prepared for Chinese people, as the demand among overseas Chinese is picking up," Liu Yuan, a senior research manager at the Shanghai-based Centaline Property Research Center, told the Global Times.
Except for certain global development programs, companies looking to buy properties overseas are focused on the areas with high concentration of Chinese, catering to the demand of Chinese residents seeking overseas homes.
Greenland Holding Group, a State-owned real estate enterprise in China, announced in February to invest $3.26 billion to develop hotels and homes in southern Malaysia. This is not the only investment Greenland made this year. It has unveiled details of its $1 billion Metropolis Los Angeles project in February and a $2 billion investment plan in London in January.
Other Chinese developers are simultaneously getting their feet wet abroad. China Vanke is teaming with real estate investor Aby Rosen to build a luxury midtown Manhattan condominium tower for its first project in New York. Even Chinese insurance firm Ping An has started its investment program in real estate markets. It bought the Lloyds of London building in the UK last year for $387 million.
According to Forbes, Chinese real estate investors are likely to dish out an estimated 1.1 trillion yuan, or $178 billion, buying up properties abroad in 2014 as residential or commercial properties.
After over 30 years accumulation of wealth and the drive of the government's "Go Global" slogan, Chinese middle class, super rich and investment companies see better investment opportunity abroad and are targeting in the world real estate market.

GlobalTimes
Please
contact us
in case of Copyright Infringement of the photo sourced from the internet, we will remove it within 24 hours.