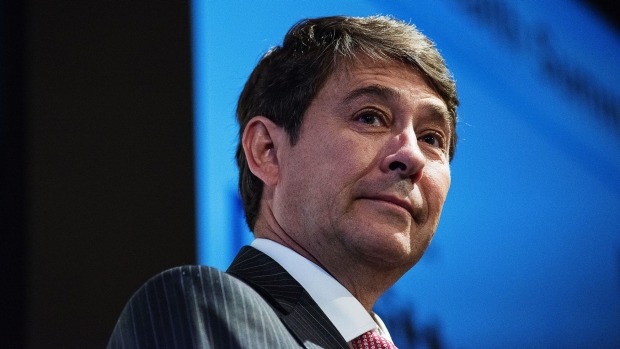 HSBC Australia CEO Tony Cripps says that "long-term fundamentals
haven't changed as a result of short-term volatility".
The local head of banking giant HSBC has predicted future waves of Chinese investment in Australia will focus more on property and services industries including hotels and entertainment, as Asia's powerhouse economy moves to its next phase of growth.

As markets fret over slowing Chinese economic growth, HSBC Bank Australia chief executive Tony Cripps also says recent market volatility was not damaging the sentiment of major clients on the ground in China, our biggest trade partner.

Despite warnings about the risk to world growth from volatility in China, Mr Cripps was upbeat on China's attempt to shift towards an economy that is less dependent on massive capital spending.

He said it was making strong progress in moving towards consumer-led growth, a trend that will open up new opportunities for Australian business as the previous focus on resources receded.
Advertisement

In an interview with Fairfax Media, Mr Cripps said the recent volatility in China – including dramatic sharemarket falls – had "not materially" affected the sentiment of its clients on the ground.

"Everybody knows that the volatility creates some uncertainty, but we haven't seen that affecting activity levels and interest by Chinese companies investing and increasing their activities in Australia," Mr Cripps said.

Long-term fundamentals unchanged

"Nor have we seen it materially change the view the other way around. Australian companies that want to expand in China – so far we have not seen them deterred by volatility.

"The long-term fundamentals haven't changed as a result of short-term volatility."

The comments from one of the world's biggest banks – with a key focus on China – comes after the International Monetary Fund this week said that rising volatility in emerging markets was a growing risk to global growth.

Like the major Australian banks, HSBC is targeting a cut of the financial flows between Australia and China, and Mr Cripps said growth in this area had "significantly increased".

But rather than the resources-heavy activities that have dominated trade and investment flows between the two countries in recent years, he said the focus of Chinese investors in Australia was broadening to also include the services sector.

This is occurring as China's government tries to shift the economy's growth engine from massive infrastructure spending to consumer led growth – and these priorities are also tipped to influence where Chinese businesses invest in Australia.

"Originally about 85 per cent of inbound investment was resource and energy focused. What we've seen in the past year or two is that now about 46 per cent of inbound investment is property related," Mr Cripps said.

Strong investment in agriculture

"We're also seeing strong investment in agriculture from China, and strong investment in other sectors of the services side like tourism assets, entertainment assets."

Singapore's DBS Bank also this week said it was eyeing strong growth in the export of of Australian services to the Asian region as the "next big thing" in the economy's integration with Asia.

China has already become Australia's second-biggest market for international tourists behind New Zealand, so bankers believe this will continue to drive continued strong inward investment in hotels.

Entertainment is also tipped to grow, after last year's near-$1 billion purchase of cinema chain Hoyts by Chinese billionaire Sun Xishuang, a deal HSBC worked on.

The government has put foreign investment in residential real estate under heightened scrutiny, but Mr Cripps said property companies he had visited in China still had "very strong interest" in commercial and residential development.

The weak Australian dollar made property even more attractive to overseas buyers, he said.

Sydney Morning Herald
Please
contact us
in case of Copyright Infringement of the photo sourced from the internet, we will remove it within 24 hours.