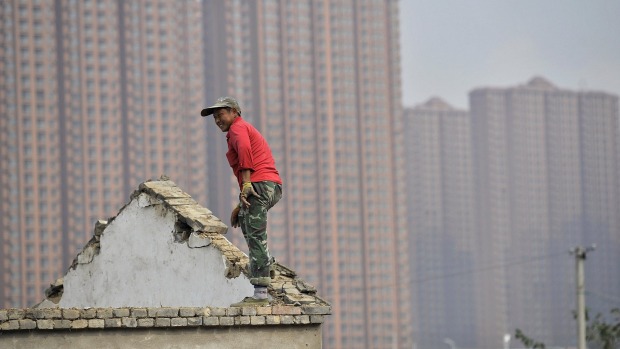 The average Chinese second-hand apartment was now $9446 per square metre, compared with
about $7030 per square metre for new builds in Auckland, Lincoln University PhD student Annie Wang says.
Soaring Chinese house prices and tight government controls on the country's housing market are driving buyers to purchase property in other countries, an academic says.

Chinese investors have had the finger pointed at them for helping to accelerate the growth in Auckland house prices.

Lincoln University PhD student Annie Wang has studied urban Chinese house prices, looking at the changing market since people were first allowed to own their own homes in 1998.

Housing has since become the most important private property commodity for urban Chinese people, she said. But with increased demand, prices surged and affordability diminished rapidly.

Between 1996 and 2005, the Chinese urban population increased by more than 50 per cent from about 373 million to more than 562 million.

Wang said the average Chinese second-hand apartment was now $9446 per square metre, compared with about $7030 per square metre for new builds in Auckland.

The average price for a second-hand, 100sqm apartment in China is now close to $1 million.

Wang said those prices, and attempts to control them, were pushing buyers to look at other countries.

The Chinese government has been using policy tools such as requiring deposits of at least 30 per cent and higher interest rates to control demand. It has also restricted overseas investment.

These tools have been effective – the market slumped last year and is now levelling off. In July, prices fell 3.7 per cent year-on-year.
Ad Feedback

"These policies have been well regarded for cooling down the property market." She said a similar approach could prove useful in New Zealand," Wang said.

Wang said her research showed there were sound reasons for the big increase in Chinese prices between 1999 and 2013. But, should a property market bubble develop in China and burst, it would have implications for New Zealand, she said.

"The development of the real estate industry is closely related to the country's overall economic growth. If a housing bubble bursts, house prices will plummet before economic slowdown occurs, thereby inflicting a greater impact on consumer confidence and economic growth than any other industry can.

"A housing bubble will certainly have an international implication due to the integration of China into the world market. A decline in house prices in China would contribute to lower output growth, and negative spillover to other countries."

BNZ chief economist Tony Alexander said there was a complete lack of understanding about what motivated Chinese buyers to invest overseas.

But he said that, whatever the level of buying in New Zealand, it could be expected to increase as the growing Chinese population looked to diversify its wealth internationally.

Stuff
Please
contact us
in case of Copyright Infringement of the photo sourced from the internet, we will remove it within 24 hours.