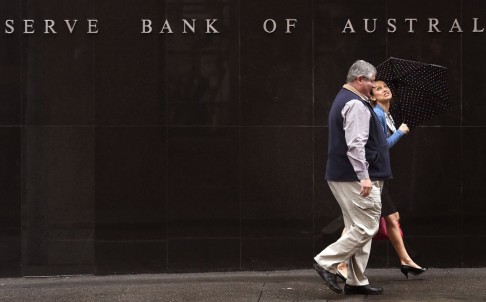 People walk past the Reverse Bank of Australia building in Sydney
as investors from China flock to the country to buy up Australian property.

Flooding the market in recent years, investors from China are expected to continue buying up properties in Australia - despite a weakening Australian dollar and a slowing Chinese economy.

Chinese investment into Australia's real estate market has increased dramatically and is only forecast to grow, analysts say. From January to September this year, capital flows from China to Australia's commercial real estate market rose to US$3.4 billion for deals over US$10 million, more than triple what was seen during the same period in 2014, according to latest figures from global property consultancy CBRE.

Last year, Australia's market attracted about 15 per cent of the total capital flow from China to the global real estate market, which amounted to US$10.5 billion.

"Overall, we are seeing the continued demand for outbound investment among the Chinese. Within the Asia Pacific, Australia is definitely one of the top destinations," said Ada Choi, senior director of research at CBRE.

Among developed economies - and particularly in contrast to some European countries - Australia is considered to be doing quite well, Choi said. As a result, Australia continues to be an attractive destination for investors looking to diversify their portfolio, and has a market largely driven by foreign capital.

Foreign investors, including those from China, also dominate the residential market. In Melbourne, the share of apartment sales from overseas buyers is about 30 per cent, according to statistics from National Australia Bank.

Alan Oster, group chief economist at National Australia Bank, said that overseas investors are estimated to make up about 20 per cent of the auction market in Melbourne and about 60 per cent of the apartment market in the city's central business district.

"In Australia, everyone says Australian property is really expensive (but) by Chinese standards anyway, it's very cheap," Oster said, adding that the weakening Australian dollar also means that property is 30 per cent cheaper than it was two years ago.

While a declining currency rate boosts commercial property returns for existing foreign investors, some are concerned that buying property during a fall in the Australian dollar can pose a currency risk - meaning that they may lose out if they purchase now, as property prices may continue to slide.

Yet Choi said that the exchange risk should be minimal because the currency may begin to stabilise. A lot of foreign investors going into Australia are also looking to enter the market in the long term, and exchange rate fluctuations have limited long run impact.

Top investors going into Australia will also consider hedging in order to protect themselves from the decline, Choi added.
"I'm not saying there's no further exchange rate risk," Choi said. "But overall, the exchange risk should be minimised after such a big decline in the past two or three years."


South China Morning Post
Please
contact us
in case of Copyright Infringement of the photo sourced from the internet, we will remove it within 24 hours.