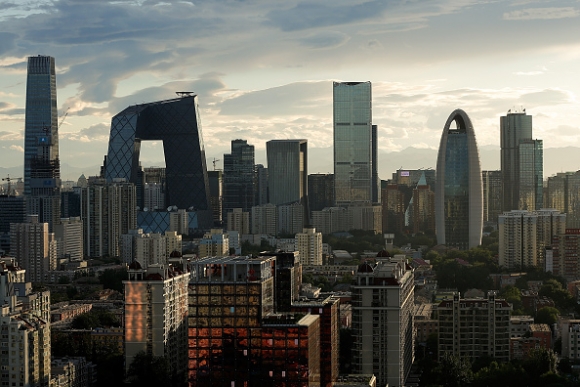 BEIJING, CHINA - JUNE 12: A general view shows the headquarter of China Central
Television amid the Beijing skyline at central business district on June 12, 2015 in Beijing, China.
Chinese insurers are looking at a 5-year plan in diversifying their assets by increasing their overseas property investments. A property consultancy on Wednesday published this report and revealed the total amount of would-be investments of US$73 billion.
According to the data, Chinese insurers see the recent volatility in equity of the worldwide markets as an opportunity to step on the pedal with their real estate investment strategy and going diverse instead of just focusing on domestic holdings.
Among the major cities being eyed in the Asia-Pacific region are Singapore, Sydney and Tokyo. According to the team, there will also be investment activity expansions covering Berlin, Frankfurt, Munich, and Pairs. Chicago, Los Angeles, San Francisco, Toronto and Washington in the North America markets will also experience a surge of investment activity.
Last year, 0.8% or US$13.4 billion of total real estate holdings of Chinese insurance industry assets under management, well below the 30% allocation was reflected in the report. And only half if not a little below of the US$13.4 billion was invested overseas.
"For the five largest Chinese insurers, total allocations remain low and no greater than two per cent, with some below 1 per cent," says Nigel Almond, director and head of capital markets research.
The report forecasts a 5% growth from the current level in the allocation for the coming five years and an additional US$73 billion to be directed to real estate properties outside of China.
This move will boost overseas real estate investment from US$6 billion in the previous year, US$79 billion by 2019, and to US$154 billion by 2024.
Reports of these plans for overseas investment was out just a couple of weeks after China Life Insurance was in talks with a real estate company in Hong Kong about a possible purchase of HK$5.85 billion office tower with retail space in Kowloon district, which will be the single-largest office tower in the area.
A total of 15 of the largest insurance companies in China are going to jump into overseas investments, and smaller companies are expected to trail as they grow their teams.

REALTY TODAY
Please
contact us
in case of Copyright Infringement of the photo sourced from the internet, we will remove it within 24 hours.