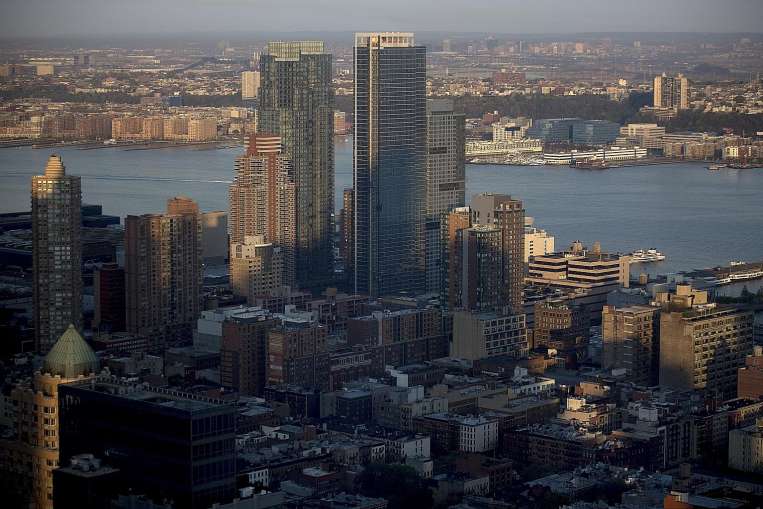 Chinese purchases of New York real estate have surged in the past two years. Inventory in
Manhattan has skewed
towards the high end after a post-recession building
boom saw a
flood
of lavish
condos for ultra-rich buyers.
Chinese developer Xinyuan Real Estate is forging ahead with plans for a condominium project in Manhattan, even as the company's New York-based executive vice-president sees signs of a glut in the luxury home market.
Xinyuan is distancing itself from the plethora of skyscrapers aimed at ultra-wealthy investors by designing its first Manhattan project to appeal to dual-income families and other upper-middle-class buyers, both American and Chinese, said managing director John Liang.
Apartments will sell for up to US$2,000 (S$2,800) per sq ft (psf), he said. That is less than the US$2,775 average for new development listings in the borough last year, according to Halstead Property Development Marketing.
With a rising supply of high-end homes, "New York's luxury condo market is now at a very, very dangerous edge of bubbles", Mr Liang said. "It's a myth that Chinese buyers all come to the US loaded with cash."
Xinyuan completed its US$57.5 million purchase of the site this month and plans to start work on what it calls a boutique, mid-tier property as early as next year.
About 30 per cent of the buyers are expected to be Chinese, about the same share as in the Beijing- based company's first New York project, Oosten, Mr Liang said.
With China's economic growth slowing and its currency depreciating, more Chinese investors are seeking US dollar-backed assets. More than US$840 billion left China in the first 11 months of last year in an unprecedented exodus.
Yesterday, the yuan traded little changed in Hong Kong - at 6.6127 per US$1, having fallen 0.4 per cent in the previous four trading days.
"The currency uncertainty will actually encourage more Chinese capital to go overseas," Mr Liang said. "We have not seen any signs of waning demand from Chinese buyers."
At about US$2,000 psf, a two-bedroom unit in Xinyuan's west side project would cost about US$1.5 million - a price that is "affordable for upper-middle-class New Yorkers", Mr Liang said.
Xinyuan is joining builders in targeting a lower price point with their newest projects as a way of satisfying a shortage in Manhattan.
The borough's inventory has skewed towards the high end after a post-recession building boom produced a flood of lavish condos for ultra-rich buyers. In the third quarter, the supply of homes for sale in the top fifth of the market jumped 8.9 per cent, an analysis by a real estate website shows. For the other four levels combined, listings fell more than 3 per cent.
Chinese purchases of New York real estate have surged in the past two years, with deals including Anbang Insurance Group's US$1.95 billion acquisition of the Waldorf Astoria hotel. Manhattan was the top US area for Chinese commercial real estate investment last year, with US$5.15 billion of transactions.

The Straits Times
Please
contact us
in case of Copyright Infringement of the photo sourced from the internet, we will remove it within 24 hours.