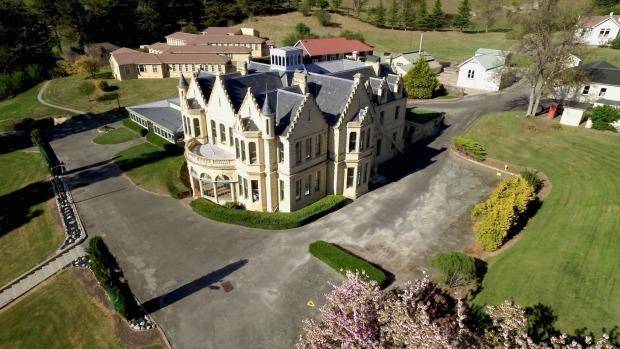 A Chinese company has bought Campbell Park Estate in the Waitaki Valley.
Affiliate company NZHouseChina's general manager, Rene Bros, confirmed on Wednesday Richina had bought the former Otakekaike Special School, also known as Campbell Park, for an undisclosed sum.
The land includes former owner and sheep runholder the late Robert Campbell's baronial style 1876 house, cottages, stables and a woolshed as well as more than a dozen classrooms, dormitories and other educational buildings.
The sellers had offered adjacent land extending the estate to 80 hectares, and Bros said Richina had bought the additional land.
Richina planned to have Auckland-based NZHouseChina run an educational institute which could include English lessons for visiting students as well as business courses, he said.
The estate would also include accommodation for tourists visiting the area and primarily focus on Chinese visitors travelling between Queenstown and Christchurch, Bros said.
However, he said there were not any concrete plans for exactly what would be taught at the site and when and how the buildings might be refurbished.
Bros said the size of the site and the fact Richina intended it be used for its original purpose, education, meant the transaction did not require Overseas Investment Office approval.
NZHouseChina had told residents of the estate's Campbell Park Village on Wednesday and Thursday they would be unaffected by the change in ownership, Bros said.
Waitaki District mayor Gary Kircher said he was "cautiously optimistic" about the sale of the castle and the adjacent village and that chief executive Michael Ross would be interested in talking to the new owners "as soon as possible".
"Potentially it's quite an exciting new direction for that facility."
Although the site had been listed with a $3.95 million price tag, Bros said the site's sellers had requested the exact sale price remain confidential.
chief executive officer of a business consultant, Dougal McGowan said the purchase would "add value" to the Eastern Coastline know as the "tourist highway" between Christchurch and Invercargill.
"Anything that increases the visibility of New Zealand as a tourist facility has to be good."
If students were to be using the facility it would bring encourage their parents to travel to the region, McGowan said.
The chinese tourist market had increased considerably during the past year and the trend was continuing, he said.
Bros said NZHouseChina had focussed its business on helping exporters establish their brands in the Chinese market. However, he said providing services had always been part of its plan.

Stuff.co.nz
Please
contact us
in case of Copyright Infringement of the photo sourced from the internet, we will remove it within 24 hours.