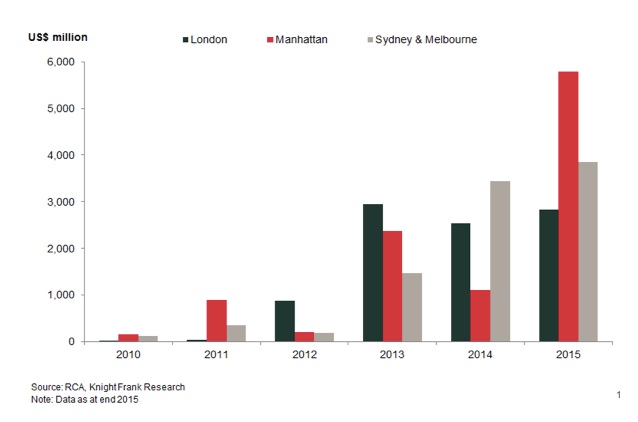 The jump in overseas real estate investments by Chinese buyers is driven by the devaluation of the RMB and Chinese stock market turbulence, which pushed up demand for Chinese investors to diversify their portfolios.
Notably, there were significantly more Chinese developers investing overseas last year, while acquisitions by Chinese insurers only increasingly slightly.
"Manhattan, New York has become the top investment destination in 2015, having attracted US$5.78 billion of investment, a five-fold increase year-on-year," says Paul Hart, executive director of Greater China at a property consultancy.
It is followed by Sydney and Melbourne in second place in 2015, attracting a total of US$3.8 billion of Chinese investment.
London was in third place mirroring the momentum of previous years.
For 2016, strong growth by Chinese investors in overseas real estate assets will continue, as uncertainties persists over the Chinese economy.
Other Asian countries including India and Japan will likely see increasing investments from China this year, benefiting from China's One Belt and Road policy, says the report.

China Money Network
Please
contact us
in case of Copyright Infringement of the photo sourced from the internet, we will remove it within 24 hours.