On March 28, the Chinese group led by the China-based Anbang Insurance raised its bid to acquire Starwood Hotels and Resorts (HOT), which operates Sheraton and Westin hotels around the globe. The bid rose from $13.2 billion to $14.0 billion. The revised offer leaves behind the $13.6 billion offer from Marriott International (MAR). If the Anbang-Starwood deal goes through, it will mark the biggest Chinese investment in US real estate so far.
This isn't the first acquisition race for Anbang. Anbang made headlines for its $2.0 billion acquisition of the Waldorf Astoria hotel in New York.
We've also seen news of the Chinese hotel operator JE Group acquiring the Hollywood Hills property. Then, in downtown Los Angeles, work is underway on the massive three-building Fig Central hotel, retail, and condo development owned by China's Oceanwide Real Estate Group. Ping An Insurance, the second-largest insurance company in China, is in talks to invest in the Landing at Oyster Point in South San Francisco, one of the largest approved office and life sciences developments in the Bay Area.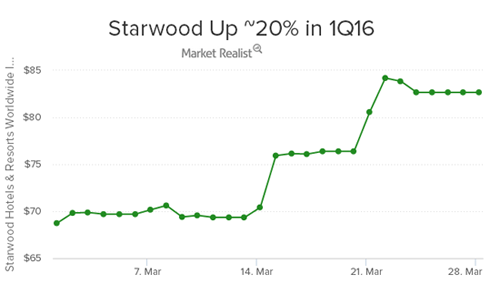 For Chinese investors, US real estate is in vogue
Buyers from China (FXI) invested about $12 billion in US real estate in 2015. Of this total, about $8.6 billion was in commercial real estate assets in 2015, according to a global real estate services and investment firm. In 2015, China increased its investments in US real estate by nearly four times. Deals in the first quarter of 2016 have already reached nearly half of the total 2015 volume.
China is increasingly investing in US real estate
China is increasingly investing in the US real estate market (IYR)(VNQ). Chinese companies are looking at US real estate as a stable way to diversify outside their economy. Within the United States, New York and California have been the biggest recipients of Chinese real estate investments. Hotels seem to be a common target of Chinese insurance buyers on account of their higher equity returns and strong cash flows.

Market Realist
Please
contact us
in case of Copyright Infringement of the photo sourced from the internet, we will remove it within 24 hours.