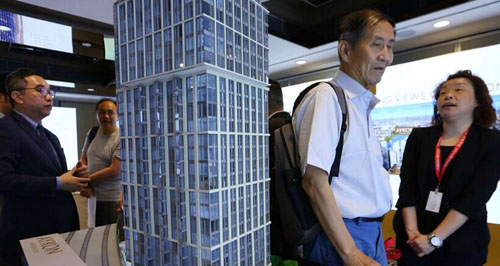 An 11 per cent fall in the British pound after the stunning Brexit result has aroused further ­Chinese interest in buying London investment properties.
However those relying on rental income have expressed concern over a tottering UK economy in the wake of the vote.
Three London projects opened for sale in Hong Kong yesterday, the day after Britain ­voted to leave the European Union.
The pound plunged by 11 per cent on Friday to its lowest level in 30 years, hitting HK$10.26.
A property agency in London said it had received five reservations for the two projects from mainland and Hong Kong investors.
Terence Law, director of a project in a property company, said it also recorded ideal sales for the Aykon London One project in London.
Most buyers had high net wealth and were either eyeing long-term appreciation or self-use purposes, rather than for rental income, Law said.
"I just feel it is a right time to buy in," a Hong Kong visitor to Aykon's exhibition said, who wanted to remain anonymous. "The pound may continue to drop a little, but I will still buy as long as the project itself is good."
Mr Ge, an immigration service provider from Shanghai, said his client was ­interested in buying property for immigration after the ­depreciation of the sterling.
"London's position as a financial centre is unlikely to be changed even after Brexit ... the volatility is just temporary," Ge said.
Local landlords seeking rental income, however, preferred to "wait and see".
"I think the pound was underestimated. A depreciation of 6 per cent is reasonable after the Brexit, rather than 10 per cent," a Hong Kong landlord said. "The impact of Brexit is so uncertain."
London's population mobility was very high, and a potential drop in economic growth or employment rate would be a heavy blow, the landlord said.
Jon Hall, London-based sales and marketing director at a specialist residential developer, said: "The news takes time to settle. But London is still a leading international market even after leaving the EU."

South China Morning Post
Please
contact us
in case of Copyright Infringement of the photo sourced from the internet, we will remove it within 24 hours.