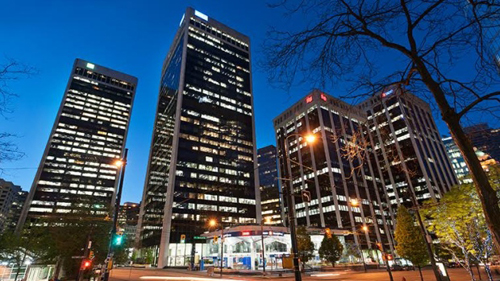 The Bentall Centre in Vancouver sold to China's Anbang Group earlier this year, pushing
Chinese investment in Canadian commercial real estate to a new high.
Chinese buyers are now the largest foreign investors in Canadian commercial real estate, having spent $1.3 billion in the first half of this year, according to global real estate firm.
The figure is skewed by a single big sale, the purchase of the Bentall Centre in Vancouver by the Anbang Group, the same Chinese company that bought the Waldorf Astoria in New York City in 2014.
The Bentall Centre was reported to have sold for more than $1 billion.
This year's $1.3 billion in investment in the first six months from China and Hong Kong compares to $309 million last year and is a marked difference from the previous five years, when investment from Hong Kong and China represented just four per cent of the market.
So far this year, Chinese investors represent 65.4 per cent of more than $2 billion in total deals across the country in the first six months of this year.
The firm company, which is based in Toronto, says China's state-owned owned firms have an interest in Canada because they are seeking out a safe haven for capital.
With the Canadian dollar relatively low and Europe looking increasingly uncertain because of Brexit, there could be more interest in commercial real estate here in the year ahead, it predicted.
Shift in Buyers
While Canadian commercial real estate has long attracted international interest, there has been a shift in who is investing in recent years.
It used to be American investors who bought Canadian commercial buildings, with 72 per cent of sales in the 2010 to 2015 period. Now it's Asian investors, followed by Europeans.
The real estate firm cautions there is not a direct parallel to what is happening in residential real estate, as commercial real estate is being driven by a handful of deals.
A separate market report of the company on Canada's commercial real estate market for the first quarter of 2016 notes that domestic capital is also buoying the market.
In Calgary, vacancy rates are high and there have been no trades since the beginning of 2015, but in Toronto and Vancouver, there is a great deal of interest and some investors are looking beyond downtown areas in hopes of getting a better return on capital.

CBC.ca
Please
contact us
in case of Copyright Infringement of the photo sourced from the internet, we will remove it within 24 hours.