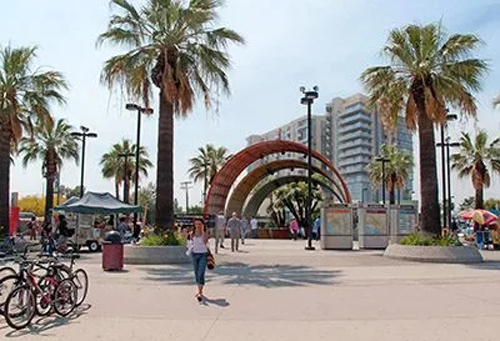 An artist's rendering shows the North Hollywood project behind the Red Line station
Shanghai's Greenland Group, China's second-largest real estate developer by sales, is part of a team that has won first-round approval for developing a mixed-use project that could involve building as much as 232,000 square metres (2.5 million square feet) of space and create up to 1,500 new homes in North Hollywood, California.
The North Hollywood deal would see the Chinese company teaming with one of America's largest developers for project well away from the Los Angeles city centre, as mainland developers take on more projects outside major urban hubs.
Greenland Group has been one of China's most aggressive cross-border real estate investors, with projects being built in Australia, the UK and Southeast Asia, as well as the US. The state-owned company already has the $1 billion Metropolis project underway in downtown Los Angeles.
Greenland's proposal, which was selected by Los Angeles authorities last month, is a joint effort with an American real estate developer, to form a public-private venture with the Los Angeles County Metropolitan Transportation Authority to develop nearly 16 acres (6.5 hectares) around the North Hollywood station of the Red Line light rail system.
The two companies are said to be holding talks with design firms to come up with detailed plans.
Greenland Group and its partner have already brought forth two general proposals, according to a report. The first calls for 1,500 housing units, 150,000 square feet (14,000 square metres) of retail, and 450,000 square feet (42,000 square metres) of office space, with the final footprint totaling 2.5 million square feet (232,000 square metres). A smaller proposal would cut those totals to 750 housing units, 40,500 square feet of retail, and 200,000 square feet of office space.
The LA County Transportation Authority has authorized negotiations to begin on the development, a first step toward an agreement on the specifics of a final project. The site currently hosts a parking lot and bus station, but is the largest plot of Transit Authority-owned land in the county and city officials have been pushing for more housing near transit hubs.
If all goes as planned, the final North Hollywood proposal is anticipated to be voted on by the Transit board before the end of 2018, with construction commencing in 2019.

Mingtiandi
Please
contact us
in case of Copyright Infringement of the photo sourced from the internet, we will remove it within 24 hours.