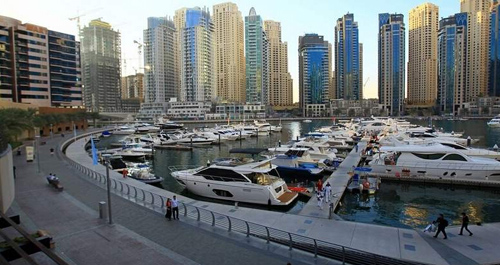 For many Chinese buyers, Dubai serves as both a vacation and investment destination.
Dubai has a huge opportunity to boost growing real estate investment from Chinese investors in the wake of Britain's decision to leave the European Union.
Uncertainty in Europe following the Brexit vote could attract a new wave of Chinese investment into Dubai owing to the emirate's offer of quality new homes with potential for price growth, according to a Chinese international property website.
Bernie Morris, president of the UK, Europe and the Middle East for the website, says developers gearing up for the Cityscape Global exhibition and Conference in Dubai in September should use the UAE's universities to attract Chinese parents who are prepared to buy homes for their children to study overseas.
"Chinese property investors may react to the Brexit uncertainty with a flight to quality. This will only enhance the UAE's prominence within the Middle East as the premier destination, one with a similar investment profile to parts of Europe. With its high-quality new residential construction, the UAE has the perfect product for those Chinese investors who prefer to invest in off-plan or new-build property."
Morris adds: "Dubai has a great growth story to share with potential investors. It has planned theme parks, infrastructure projects and new housing, so Chinese investors can easily see that there will be economic activity to support future price gains.
"For many Chinese buyers, Dubai serves as a combined vacation and investment destination. They may buy a unit that can be rented out and managed for them, and expect to visit once or twice a year."
Morris will be one of the expert panelists appearing at the Cityscape Conference taking place at the Conrad Hotel in Dubai on September 5, before the three-day Cityscape Global exhibition opens the following day.
"With its offering of world-class universities, the UAE should be able to increase the number of Chinese students it attracts," says Morris.
"International students add $18 billion to the economy of Australia, which is only about twice the size of the UAE. This could become the Emirates' largest non-resources export to Asia.
"Property marketers need to make the case that the UAE is the perfect place to study overseas. If they do, we would expect to see a growing number of transactions by families purchasing homes for their children to live in while studying."
Morris says enquiries on UAE property via the website for the first half of this year are 40 per cent up on the previous six months, and 85.3 per cent higher over the last 12 months than the previous year.

Khaleej Times
Please
contact us
in case of Copyright Infringement of the photo sourced from the internet, we will remove it within 24 hours.