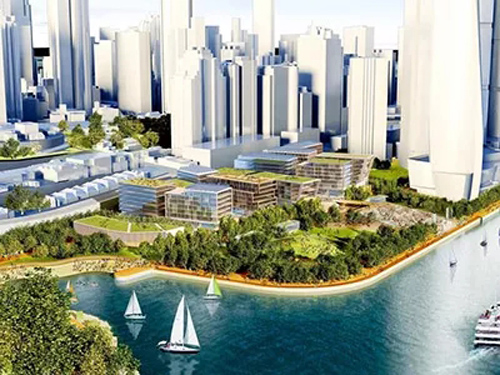 An artist's rendering of Central Barangaroo
Residential developer Aqualand, the Australian subsidiary of Shanghai-based property group, Shenglong with Australian builder Grocon and shopping centre giant Scentre could soon win a bid to develop a A$2 billion (US$1.5 billion) mixed-use project in the centre of Sydney, according to a report this week in the Australian media.
The highly lauded 5.2-hectare Central Barangaroo development – the last piece in the $6 billion Barangaroo masterplan – will require the consortium to develop public amenities along with about 150,000 sqm of new commercial, retail and residential space.
Reports of the win follow soon after Aqualand acquired its eighth Sydney project last week, picking up a 13,215 sqm office and warehouse facility in Sydney's Macquarie Business Park in the north of the city for A$54 million (US$41 million).
The design of Central Barangaroo will include the Sydney Steps – a feature set to create a 21st Century equivalent of Rome's Spanish Steps, connecting housing in the project to nearby commercial centres. The development, which will construct a new public square on the Sydney waterfront will also include a shorefront amphitheatre.
The Aqualand, Grocon and Scentre consortium's bid was said to be favored by local authorities because it would blend more effectively with another impending development nearby, the $2 billion Crown Sydney hotel-casino. The potential win is said to be before the NSW Premier for final consideration.
Shanghai Shenglong Investment, Aqualand's parent company back in China, has been aggressively expanding into the US, as well as down under.
In California, Shenglong subsidiary City Century is planning two projects near Los Angeles' Staples Center arena. Both of the projects of the US branch of the Chinese investment group are just a few blocks away from Beijing-based Oceanwide's Fig Central project, and less than a mile away from Shanghai-based Greenland Group's Metropolis project in Los Angeles.

Mingtiandi
Please
contact us
in case of Copyright Infringement of the photo sourced from the internet, we will remove it within 24 hours.