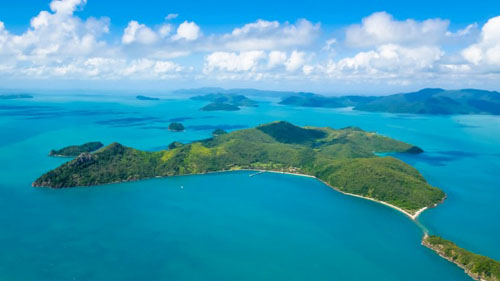 South Molle has been snapped by China Capital Investment Group.
Daydream Island owner China Capital Investment Group has snapped up South Molle island in the Whitsundays in the heart of the Great Barrier Reef for about $25 million.
The perpetual leasehold for the tropical island was put up for sale by long-time owner and tourism identity Craig Ross in April after he received a number of unsolicited approaches from investors and developers.
Up for sale was 12 hectares of developable beachfront land, including a frontage of more than 600 metres to one of the only sheltered north-facing white sand beaches in the region and a secluded 15-hectare parcel in the middle of the island, surrounded by national park.
It also came with an existing 188-room resort and amenities.
"It's been a joy to share South Molle. It's a wonderful island. It's been an amazing 15 years. I wish the new owners all the best," Mr Ross told the media.
The island offered the potential for "unparalleled large-scale development potential", according to the information memorandum with the opportunity to develop a 1300-room resort, subject to planning approval.
The sale of South Molle island was negotiated by Peter Harper and Tate Stubbs of JLL Hotels and Hospitality who declined to comment.
The sale comes amid rising levels of investment from Chinese investors in Australian resorts and in Queensland coastal real estate, including Dalian Wanda's Jewel project on the Gold Coast and Hong Kong billionaire Tony Fung's recent $40 million acquisition at Surfers Paradise.
Nearby developments include the five-star Qualia resort on Hamilton Island, Dent Island Golf Course and the redevelopment of Hayman Island and Lindeman Island.
Also encouraging investment has been rising Whitsunday occupancy rates – up from about 55 per cent last year to almost 70 per cent this year – and average daily room rates, up from $400 to $450 a night.
The buyer, Shanghai-based China Capital Investment Group, snapped up the Daydream Island (West Molle) Resort and Spa last year from Nature's Own founder Vaughan Bullivant for about $30 million. The 4.5-star resort has 296 rooms and suites.
The company was founded by Chuanyou Zhou, the chairman and CEO. It invests in the mining industry, real estate and infrastructure.
According to its website, the company welcomed Queensland education ministers Kate Jones and tourism minister Megan Houghton to its offices last year, where they discussed the prospects for the tourism market and "investment opportunities in Queensland".

The Australian Financial Review
Please
contact us
in case of Copyright Infringement of the photo sourced from the internet, we will remove it within 24 hours.