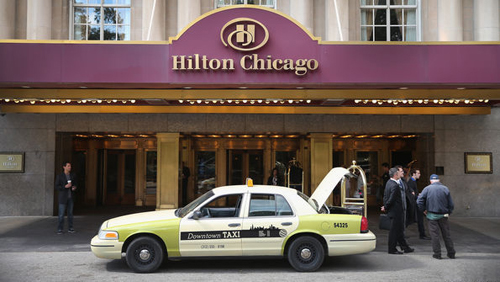 CHINESE tourists are an increasingly common sight in America's cities, from New York to Honolulu. About 2m Chinese visit the country each year; that figure is expected to rise to over 3m by the end of the decade. But it is not just Chinese tourists who have been enjoying American hospitality; it's Chinese investors, too.

This week HNA Group, a Chinese firm that began life as an aviation company, announced that it is to buy a 25% stake in Hilton Worldwide Holdings. It will be the largest shareholder in the hotelier whose brands also include Embassy Suites, Hampton Inn and Conrad.

The deal is the latest in a year that has already seen substantial Chinese investment in American hotels. In April, an HNA division announced it was buying Carlson Hotels, which owns Radisson and several other brands. Last month, Anbang Insurance Group completed the purchase of 15 American hotels in a deal worth more than $5bn, including the JW Marriott Essex House in New York, the Westin St. Francis in San Francisco, the InterContinental in Chicago, a Four Seasons in Washington, DC, and two Ritz-Carlton resorts. And just last week came the news that China Life Insurance Co. is leading an investment group that is buying a $2bn stake in a collection of 280 American establishments.

All of this follows Anbang's purchase last year of the iconic Waldorf Astoria in New York for nearly $2bn, the highest price ever paid for an American hotel. With all of these massive deals on the slate, Anbang's failed attempt to take over Starwood Hotels & Resorts earlier this year looks like a mere blip.

Buying hotels isn't an obvious step for aviation or insurance companies. But it appears to be happening for two reasons. One is that the American hospitality industry is seen as a safe place for Chinese investors to park their money. The recent slowdown in Chinese economic growth has caused jitters at home and prompted more investments abroad. They have been particularly keen on buying luxury real estate in places like New York and Vancouver, where Chinese owners are becoming common. But in an effort to diversify, and in a recognition of the hospitality industry's strength—a record number of rooms have been booked in America over the past year—Chinese investors increasingly see hotels as a good option.

The second reason is a form of vertical integration in the tourism industry. This could have a big effect on travel. HNA is ambitious. Its chairman wants the firm to become one of the top 100 companies in the world by 2020 and one of the top 50 by 2030 and acquisitions are seen as a way to achieve this. Founded in 1993 as a regional airline on the island of Hainan, HNA now has nearly $100bn in assets and 200,000 employees. It has acquired a stake in more than 2,000 hotels and flies more than 90m passengers annually. It recently reached deals to buy an aircraft-leasing business, an airline caterer and an airport luggage handler.

Why? In short, Chinese are travelling in record numbers. Tourists from the mainland will spend more than $70bn at home and abroad this year, according to the state-backed China Travel Academy, and Chinese companies are hoping to capture as much of that spending as possible. Firms like HNA could conceivably control every stage of the travel process for many Chinese travellers, from the visible elements like the airlines and hotels to the behind-the-scene details in the airports and in the air. All of which means that if you book a trip to the United States and stay at an American hotel, it's possible that much of the money generated—from the food on your plane, to the handling of your baggage, the leasing of your aircraft and the stay at your hotel—could go to Chinese companies.

The Economist
Please
contact us
in case of Copyright Infringement of the photo sourced from the internet, we will remove it within 24 hours.