Chinese Investment In U.S. Real Estate Is Going Strong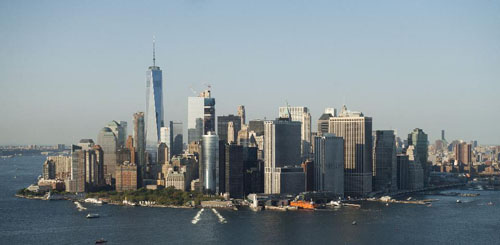 The skyline of downtown Manhattan is seen in this aerial
photograph over New York City, September 13, 2016.
As China's property market experiences yet another real estate bubble that authorities are attempting to control with new restrictions on home buying, citizens are continuing to look abroad for stable investment in U.S. property markets.

According to an Asia Society Special Report, Chinese investment in residential property amounted to $9.3 billion between 2010 and 2015, while that in commercial property rang in at $17.1 billion over the same period. Despite the implementation of capital controls this year designed to restrict capital flight, through pressuring insurers to reduce overseas investment and asking banks in Shanghai and Shenzhen to limit dollar buying, Chinese demand for U.S. property remains strong. As of August 2016, the U.S. has already drawn $13 billion in real estate investment commitments from China.

Chinese individual investors in residential properties seek a second home and an investment outlet, and have diversified, to some extent, out from major cities such as New York and Los Angeles to smaller cities in central states, including Detroit and Memphis. Still, coastal regions are the popular home purchase destinations for Chinese nationals.

According to Aaron Terrazas, senior economist at Zillow, "International real estate, particularly in the United States and Canada, is a popular investment among affluent Chinese households. In the United States, they primarily invest in West Coast markets with large existing Chinese-American communities (e.g., Orange County, California; the California Bay Area; and Seattle), in part because these communities offer a ready pool of real estate professionals able to meet the unique needs of this clientele." Terrazas added that Chinese investors in U.S. real estate often purchase properties in order to provide their children with opportunities to study abroad or to provide themselves with the potential ability to immigrate. Buying homes in the U.S. also allows Chinese investors to preserve wealth, something that can present a challenge in China's changing domestic economy.

Chinese institutional investors, such as real estate developers and private equity firms, have played an increasingly significant role in U.S. real estate investment. Overseas investment approval thresholds were raised in October 2014 from $100 million to $1 billion. Chinese insurers doubled their purchases of overseas property to $4 billion in 2015. In addition, developers have initiated projects in New York, Boston, Chicago, Los Angeles and Miami. Among these projects, Chinese developers are slated to build San Francisco's second-tallest building and the tallest apartment tower in New York.
According to Spencer Levy, head of research, Americas, at CBRE, "China, like many emerging market economies, has 'excess savings' that need to be deployed into large high-yielding investments. The world has very few asset types in commercial real estate or elsewhere that meets this criteria (large, high-yielding); however, U.S. commercial real estate comes closest and this is why most of the large strategic portfolio or partial interest sale buys have been bought by Chinese investors."

Demand remains strong now, as China's real estate bubble begins to burst and investors seek alternative places to park their money. Without many investment alternatives domestically, Chinese buyers purchase more U.S. properties than buyers from other nations. Although home prices in China remain high in larger cities, government effort to tamp down price growth are making Chinese property markets decreasingly attractive to investors seeking an outlet for capital, inducing investors to purchase real estate abroad.

Chinese real estate purchases in the U.S. are likely to continue in the face of declining economic and financial conditions in China. The importance of establishing a base in the U.S. is only increasing. As Spencer Levy of CBRE states, "the Chinese have taken the number one slot from Canada for foreign commercial real estate investment in the U.S. for the first time, perhaps ever, showing that the momentum for foreign capital is clearly behind China."

Forbes
Please
contact us
in case of Copyright Infringement of the photo sourced from the internet, we will remove it within 24 hours.