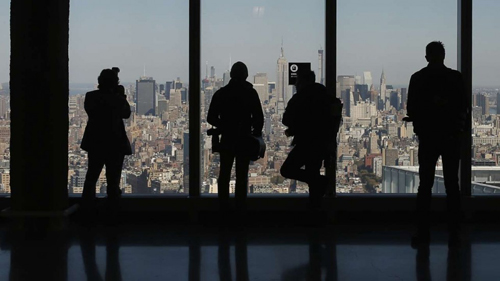 The Manhattan skyline from the 64th floor of the
One World Trade Center tower in New York.
Chinese capital outflow decreased in the first half of 2016, although deals in the latter part of the year will lift outbound investment to the same levels as last year, analysts say.

A new report from Knight Frank Research says this year has seen "waves of Chinese outbound capital" worth US$10.7 billion (HK$83 billion), a 13.6 per cent drop from last year.

But it added the first six months of 2015 provided a high base for comparison, since there were historically large real estate deals such as Anbang Insurance's US$1.95 billion purchase of New York's Waldorf Astoria.

"Chinese investment was gaining momentum as we crossed the half-year mark," the report said. "Since June there have been deals in the making that promise to turn 2016 into another productive year."

While China's economy has slowed recently, the country's investors remain interested in global markets, particularly in primary real estate, its analysts said.

High land prices in Chinese cities – for which the government has recently rolled out cooling measures to temper overheating markets – "has encourage capital to seek overseas opportunities," Knight Frank they added.

But despite strong outbound investment, analysts warn existing restrictions on China's foreign exchange reserves could cause money to dry up in the overseas subsidiaries of Chinese investors.

"Although China's capital outflow control has been a push factor so far, it could be a double-edged sword," they said.

Chinese investment in properties abroad has ballooned in recent years, escalating from US$5.6 billion in 2012 to US$34.4 billion last year.

And tangible assets such as real estate have been more attractive as speculation continues as to when the Federal Reserve will raise interest rates, and as the renminbi has continued to weaken.

"[This] has resulted in a sense of urgency for Chinese investors to invest in USD-denominated assets," the report said.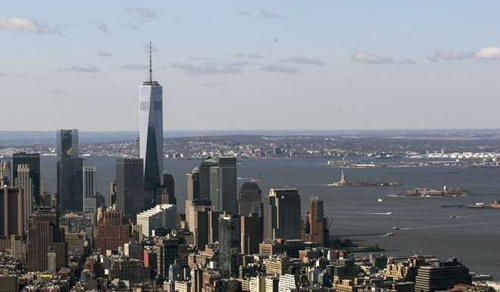 One World Trade Center towers over lower Manhattan in New York,
a city which is still the number one investment target for Chines buyers.
The US remains the top destination for Chinese capital, garnering US$5.1 billion in the first half, a 21 per cent increase from the same period last year. In particular, 80 per cent of Chinese investments in the US were in New York, according to Real Capital Analytics.

And most of the capital outflow went into office deals as Chinese institutional capital "continued to chase trophy assets," the report said.

China Life Insurance bought the PaineWebber Building in New York for US$1.65 billion and China Investment Corporation paid US$700 million for an office at One New York Plaza.

The UK also saw a "whopping 75 per cent uptick" in Chinese capital in the first half compared to last year, or US$1.7 billion, particularly from private banks and conglomerates.

"London's status as a key international financial centre and the perceived stability of the UK economy definitely contributed to this tremendous growth," the report said.
Even following the Brexit vote in June, analysts say interest in London "seems undiminished."

China Minsheng Investment Corp, one of the country's largest private investment conglomerates, bought Societe Generale's London headquarters for US$110 million in September, and China Vanke Co forked out US$149 million to acquire London's Ryder Court office building.

Hong Kong was also a sizeable market for Chinese funds in the first half, bringing in US$1.68 billion, just 9 per cent less than last year. Increasing connectivity between Hong Kong and mainland markets through stock connects have attracted "new tenant demand," analysts said.

"As Hong Kong office rents remain the highest in the world, any opportunity to own a trophy Grade A office asset in the central business district cannot be ignored," the report said.

Additionally, Hong Kong's residential land market offers "better opportunity than some of the hotly contested mainland markets."

Meanwhile, Australia saw a 37 per cent decline in Chinese capital to US$1.7 billion in the first half, although interest remains in office markets in Sydney and Melbourne.

South China Morning Post
Please
contact us
in case of Copyright Infringement of the photo sourced from the internet, we will remove it within 24 hours.